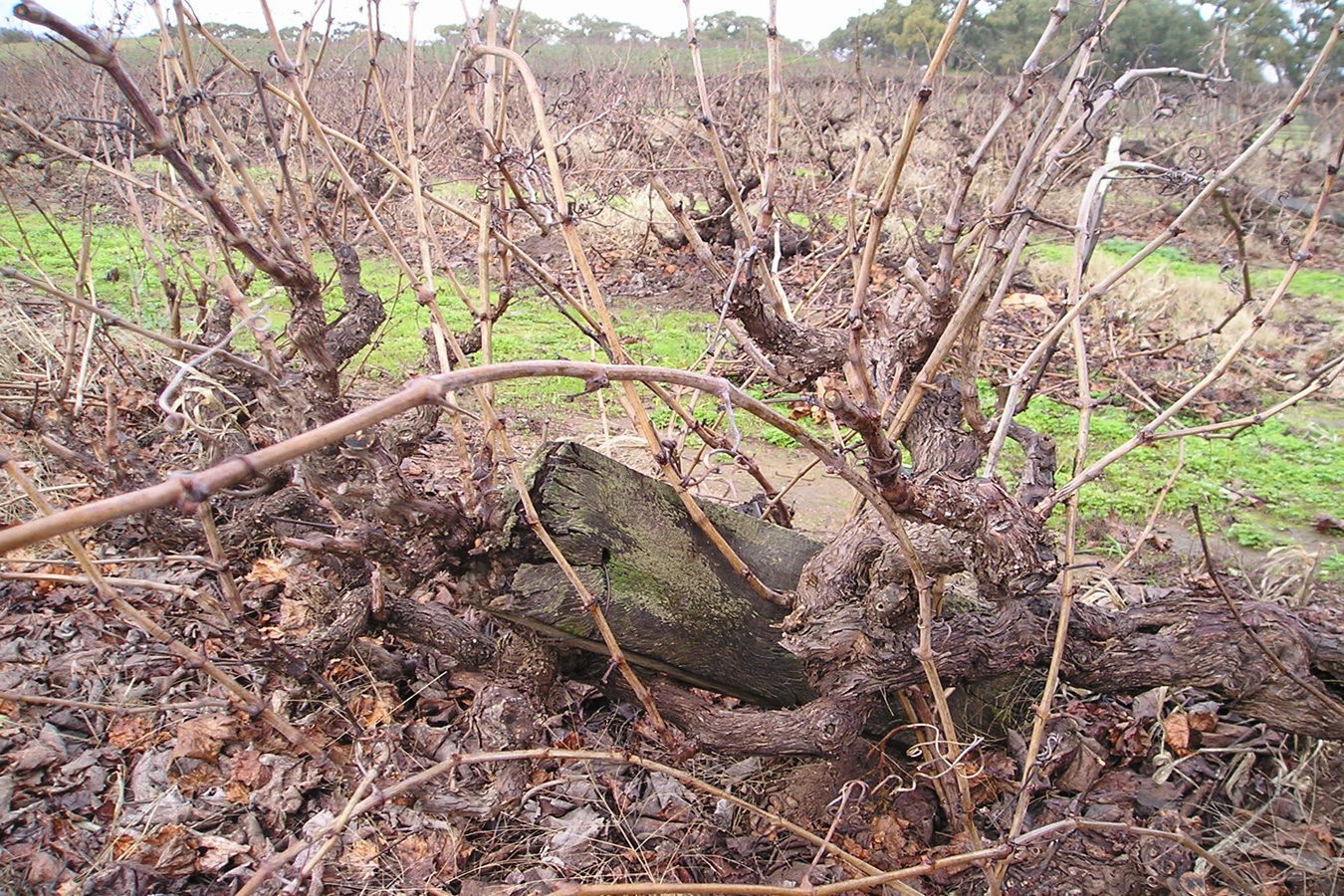 The release of the 2011 Penfolds Shiraz Mourvedre Bin 2, an old label from the 1960s resurrected in the 1990s, and a "march mataro madness" campaign by Barossa wine merchant David Farmer, begs the question of what this great old variety really is. There's not a lot of it grown in Australia – in 2008 just 785 hectares, mostly in the Barossa Valley – yet it's survived here since the 1830s. And even if we've not heard of it, we've almost certainly enjoyed mourvedre (aka mataro), acknowledged or not in red blends or as an anonymous component in Australian "port".
Descriptions of mourvedre contradict one another. Can it really be soft and fruity but also tannic and iron-hard; both low in acid with little colour and searingly acidic and opaque? The answer appears to be yes. Consider these contrasting accounts of Spanish and Australian mourvedre/monastrell/mataro from Jancis Robinson's The Oxford Companion to Wine and Rolf Binder's Veritas Winery website.
Jancis Robinson: "The wine produced from monastrell's small, sweet, thick-skinned berries tends to be heady stuff, high in alcohol, tannins and a somewhat gamey almost animal flavour". Rolf Binder: "A mataro berry is about 1.5 times larger than a shiraz berry so bleeding off juice increases the juice to skin ratio" – in short, Binder bleeds juice off to increase extraction of tannin and colour, something his Spanish peers don't' need to do.
Robinson also writes that in southern France "mourvedre is considered an improving structural ingredient – a sort of vinous RSJ" – suggesting its firm tannins give the backbone lacking in the companion varieties, shiraz, grenache and cinsault.
Barossa vigneron Dean Hewitson offers two possible reasons for southern French mourvedre's comparative toughness. The first, and most likely, he believes, is that varieties are mixed in the vineyard in the Rhone Valley but they ripen at different times. Therefore if a grower harvests a plot of ripe grenache, the mourvedre mixed in it with it will be unripe, with hard tannins.
The second is that the devastation of European vineyards by phylloxera in the late nineteenth century may have resulted in significant clonal differences between Australia and Europe. Barossa plantings are all pre-phylloxera and may be "clonally softer in tannin", suggests Hewitson.
But then as we digest that, Penfolds notes, based on Barossa fruit, seem more consistent with Robinson's, "Mourvedre is dark in colour, smells of Provençal herbs and spices and has plenty of tannin stuffing. This is a wine varietal greatly valued by Penfolds winemakers for its blending attributes; toning down the exuberant qualities of shiraz, while adding overall complexity and palate grip".
Because mourvedre buds and ripens very late, it needs plenty of late season heat. Little wonder, then, that it's at home in the hot Barossa and Spain, but pushes only into southern France, and even there can struggle to ripen.
In Australia as in France and Spain, mourvedre plays mainly a support role to other varieties, historically for "port" and increasingly for red table wine. In the mid eighties the so-called Rhone Rangers led the Barossa revival of grenache-shiraz-mourvedre blends. This group, including Charlie Melton, Rocky O'Callaghan and Bob McLean, Chris Ringland and Rolf Binder, took the unique beauty of the Barossa's very old vines to the world.
Mourvedre played a key role in the blends. But they weren't the first to gain recognition, as Penfolds Shiraz Mataro Bin 2, made from 1960, remained popular until its discontinuation in the seventies. Penfolds resurrected it in 1980 and 1981, then discontinued it, shipping the remainder to the UK. Production of Bin 2, now labelled as shiraz mourvedre, commenced again in 1990.
In The Rewards of Patience, edition four, 2000, Penfolds claims Bin 2 opened the UK market to Australian wine, "Originally, Bin 2 was a result of experimental work on the medium-bodied, soft-finishing 'Australian Burgundy' style, traditionally based on shiraz. The addition of mourvedre may also explain Bin 2's success with British wine drinkers, as this variety has the effect of moderating the richness of shiraz, making the wine leaner and more European in both style and structure".
Mourvedre seems set to continue its supporting role to shiraz and grenache. But Hewitson and Binder have both made jaw-dropping straight varietals as thrilling as any red on the market.
However, Dean Hewitson cautions, "It's a matter of understanding when it's a blending grape and when it's not to blend". He sources mourvedre from a dozen or so vineyards across the Barossa, several of them more than a century old, but still uses it principally as a blender, "to add complexity to Miss Harry [his grenache, shiraz, mourvedre, cinsault blend] and dimension to Ned and Henry's [shiraz with a splash of mourvedre]".
He adds that mourvedre's not as forgiving a variety as shiraz or cabernet and it needs to be from a very special site – typically in sandy soils – to stand on its own.
Hewitson made his first straight varietal in 1998 from eight rows of mourvedre vines, remnants of a larger vineyard planted by Friedrich Koch in 1853, near the North Para River at Roland Flat, Southern Barossa. He believes the vines to be direct descendents of the collection brought to Australia by James Busby in1832.
Those remaining vines, he says, witnessed all the fads and fashions of the Australian wine industry, from fortified to table wine, and even contributed fruit to Orlando Carrington Blush bubbly in the eighties. The mourvedre plantings had been more extensive, but the Koch family replaced them progressively with more fashionable varieties until Hewitson contracted the last eight rows in 1998.
From 1996 Hewitson propagated new vineyards using cuttings from the best of the old vines. These gradually increased the volume of mourvedre available for blending and, after ten years, contributed fruit to a second straight mourvedre, Baby Bush.
Hewitson believes we'll see more straight mourvedre in the near future. He suspects recent sales of Baby Bush and Old Garden to fellow Barossa makers to be for benchmarking their own products.
We'll have to wait and see. But even if more flow into the market, it'll be a tiny volume. Mourvedre accounts for less than one per cent of Australia's red plantings, and these vines produce only six to seven thousand tonnes of grapes a year.
Production may be small, but it's a key variety, a great blender, sensational on its own on occasion and now, I'm told, the best grapes fetch very high prices. In the Barossa this means a small army of makers, many of them quite small, hunting down those very special, very old parcels.
On glug.com.au, David Farmer notes the long history of the variety in the Barossa Valley and warm inland regions. He warns of the marketing danger of using two names for the one variety, especially given the difficulty of pronouncing "mourvedre" and the much longer usage of "mataro" in Australia.
He writes, "To persist with the term mourvedre risks failure as no one is confident in pronouncing it. At Glug we will stick to Mataro as it is a tough, honest sounding and avoids a name which is far too French for our taste. The Barossa Valley Wine Show and Penfolds should do likewise. To get the Australian red wine drinker interested in this wonderful variety will require serious effort and using dual names is a disaster".
Farmer notes that of the 43 straight or blended mataros listed on Dan Murphy's website, 20 use "mataro", 22 use "mourvedre" and one uses the Spanish, "monastrell". Clearly, winemakers remain split on which name to use, though I suspect the pendulum has swung to "mourvedre", especially among the young.
In Wine grapes: A complete guide to 1368 vine varieties, including their origins and flavours (2012), Jancis Robinson lists the variety as "monastrell" and says the evidence points to it being of Spanish origin, with the first known mention of it in the 1380s. She says the variety probably found its way to southern France in the sixteenth century.
Call it what we will, mourvedre remains an important niche variety. Farmer observes from the hot Barossa, as wine writers lean increasingly towards cool-climate wines, "our job is to make customers aware of long established varieties like mataro, grenache and carignan and the flavours they develop in a warm climate".
Copyright © Chris Shanahan 2013
First published 3 April 2013 in The Canberra Times