Despite delays caused by heat, drought, smoke and Covid-19, one of the most significant developments in Canberra's wine history is planned for a site south of Murrumbateman.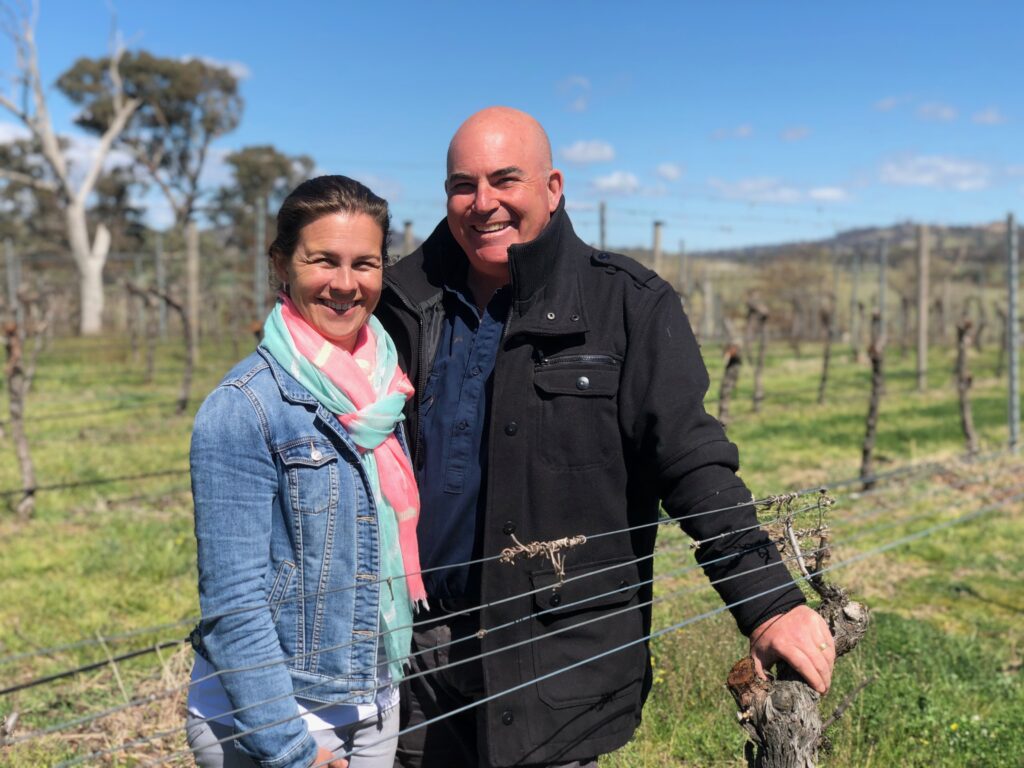 In July 2019 Jason and Alicia Brown bought land at Spring Range (including the two-hectare Kerralee vineyard) straddling Jeir Creek and fronting the eastern side of the Barton Highway.
The Browns plan to build a winery and cellar door on site to make and sell wines from Kerralee and vineyards they own in the neighbouring Hilltops and Tumbarumba regions.
While Canberra vignerons commonly source grapes from Canberra, Hilltops and Tumbarumba, the Browns are the first to own substantial vineyards in all three regions. And they'll be the first to make Canberra the centre of the three-district estate-based production and sales.
Jason Brown says he and wife Alicia originally planned to complete the cellar door in 2021. However, heat, drought and smoke taint destroyed the 2020 crop entirely, setting back plans for the winery and cellar door by at least a year. Despite the setback, Brown says his family intends to move from Moppity vineyard, near Young, to Kerralee before year's end.
Within months of buying Kerralee, the Browns grafted the vineyard's existing pinot noir and merlot vines (on the northern side of Jeir Creek) to the two best performing shiraz clones from their Moppity vineyard and two rows of viognier. On the southern side of the creek they planted eight hectares of shiraz, grenache, mourvedre and riesling, bringing the vineyard total to 10-hectares.
These new plantings bring the Brown's vineyard holdings to about 149-hectares, alongside the 69-hectare Hilltops region Moppity Vineyard (acquired 2004), and the 70-hectare Tumbarumba region Coppabella Vineyard (acquired 2011).
These established vineyards produce outstanding wines, often highly awarded, and generally well distributed, under various Moppity Vineyard, Lock & Key, Cato, Crafted, Coppabella Vineyard, and Procella labels.
Each district produces its own established specialties based largely on local climate, although the Browns have new varieties and styles coming through as the climate warms and consumers seek new drinking experiences.
While cabernet and shiraz built Moppity's reputation, the three Cato wines reviewed below point to an exciting future for nebbiolo, tempranillo and sangiovese. Jason Brown believes grenache suits the site, too, confirmed by a Canberra regional wine show trophy for the first vintage, 2018. Malbec also offers good potential – currently demonstrated, says Brown, by Nick Spencer's flagship blend of Moppity malbec and Gundagai cabernet sauvignon.
The Italian white variety fiano looks exciting, too, Brown believes, though the promising 2020 fruit succumbed to smoke taint. To me, this is the most exciting of the Italian white varieties now being cultivated across Australia and beautifully made, for example, by Coriole (McLaren Vale) and Grosset (Clare Valley).
Coppabella Vineyard, Tumbarumba, to the cooler south of Canberra, in the lee of the Snowy Mountains, produces excellent chardonnay, good (and getting better) pinot noir, outstanding bubblies, and truly varietal sauvignon blanc. Brown is adding the Austrian white variety, gruner veltliner, plus pinot gris and Beaujolais' red grape, gamay – varieties already showing promise in the district.
Plantings at the new Kerralee vineyard, play to Canberra's proven strengths in shiraz (sometimes blended with viognier) and riesling. The addition of late-ripening grenache and mourvedre (traditional companions to shiraz in France's southern Rhone Valley) acknowledge a warming climate and the growing appeal of multi-variety Rhone blends.
It'll be a few years before we can enjoy the Kerralee vineyard wines. But Jason and Alecia Brown's Moppity and Coppabella wines, currently made under Jason's supervision at First Creek Wines, Hunter Valley, can be found in bottle shops and online.
These recently tasted wines from the Moppity Vineyard give great drinking pleasure and capture the distinct character of each grape variety.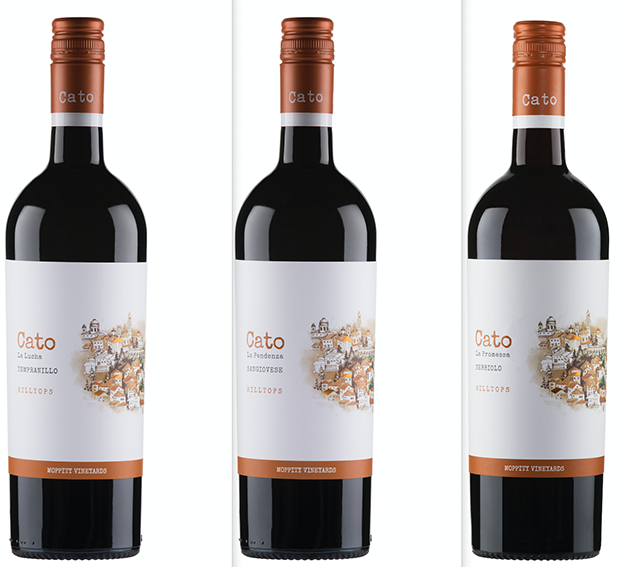 Cato Hilltops Sangiovese 2017 $35
Lean and savoury, with underlying sweet fruit and fine, grippy tannins Cato Sangiovese provides a drinking experience far removed from say, a plump shiraz. But it's the attention to detail that adds to the wine's appeal. Observing sangiovese's tendency to be too lean and too tannic, Jason Brown learned to plump up the berries by watering early in the season then turning the tap off at veraison (when berries begin to soften). He reduced the berry numbers, enabling the vines to fully ripen the remaining crop. This resulted in what Brown calls a 'juicy ripeness' underpinning an otherwise savoury wine cut with the variety's distinctive firm tannins. Sensitive winemaking at First Creek captures the fruit's quality, subtly enhanced by maturation in non-intrusive older oak.
Cato Hilltops Nebbiolo 2017 $35
In Piemonte, the reds of Barolo appeal with floral aromas but often descend into unrelenting tannins that suck the water from your eyes. The best versions, however, offer floral aromas and deep, dark fruit tightly held by grippy but harmonious tannins. These elegant but powerful wines may be hard to find but they offer one of the great delights of the wine world. Cato doesn't take us to Barolo, but it sensitively reveals both the florals and savour of the variety, with a firm tannin backbone that builds with each glass. Again, the winemaker captures varietal character without intruding on it.
Cato Hilltops Tempranillo 2017 $35
The Spanish call their young, simple tempranillos joven, indicating a fruity, drink-now red, as distinct from more complex styles aged for longer periods in oak barrels. Cato, made in the joven style, drinks beautifully now, offering a great mouthful of lush fruit, reminiscent of ripe blueberries. However, savour and firm tannins push through, giving a satisfying finish to a more-ish dry red. Jason Brown says the variety to tends to crop heavily, meaning extensive fruit thinning to reduce yields and boost fruit flavour.
Copyright © Chris Shanahan July 2020