Lion chief brewer, Bill Taylor, sees a trend among American craft brewers away from bottles and back to cans. Indeed, SanTan Brewing, Arizona, this year hosted the third AmeriCAN craft beer festival – under the slogan, "In cans we trust".
Taking up the cause locally, Australian Brewery's Neal Cameron, now packages beer in elegant, slimline, 355ml cans for sale in Australia and export to the USA, Japan and, from 2014, India.
Cameron enthuses about the lower cost, lower weight and ease of packaging cans compared to glass. He also claims cans deliver better quality as they're impervious to light and provide a better barrier against oxygen.
While exposure to light can damage beer, modern packaging technology should ensure little, if any, difference in oxygen levels between canned and bottled beer. Cans, though, should present a cheaper and easier packaging option for small brewers and another choice for drinkers.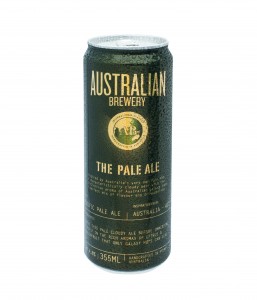 The Australian Brewery Pale Ale 355ml can 4-pack $16
Australian Brewery's naturally conditioned cloudy ale comes in a slim can that feels deceptively smaller than 355ml. As you pour, the abundant, dense white head says, "I'm very fresh" – an impression confirmed by the fruity–pungent hops aroma and lively, palate, also cut through with passionfruit-like hops flavours.
Copyright Chris Shanahan 2013
First published 6 November 2013 in the Canberra Times and goodfood.com.au