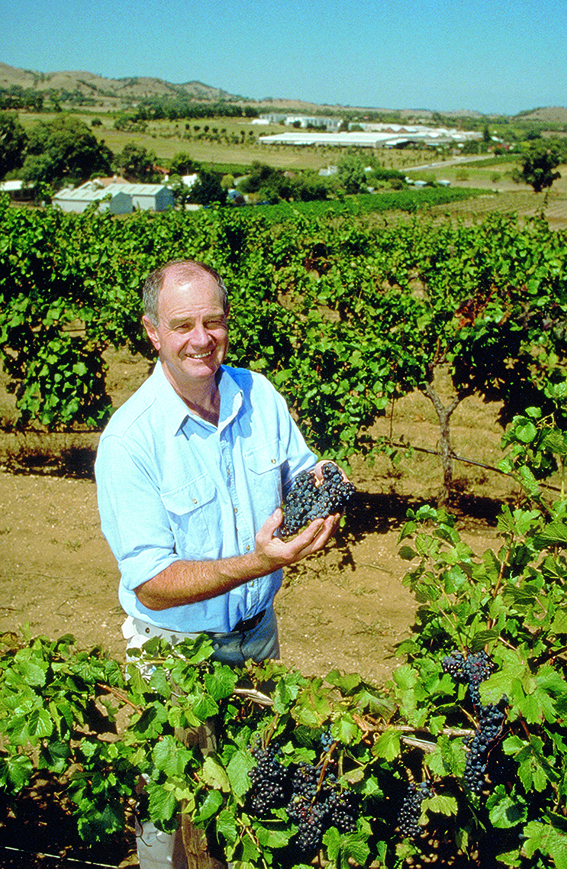 In December 2010 Philip Laffer handed the winemaking reins of Jacob's Creek to Bernard Hickin. But Laffer, now 70, retains a globe-travelling role with Jacob's Creek's French owner, Pernod-Ricard, giving valuable advice to the company's winemaking enterprises in Australia, New Zealand, Argentina, Spain and France.
Laffer's career spans, on a large scale, every imaginable aspect of Australian wine, including viticulture, winemaking, research, commerce, trade, marketing and management. Even within Pernod-Ricard's Australian operations, Laffer's influence stretched beyond the flagship brand, Jacob's Creek, to the company's Wyndham Estate and Richmond Grove brands.
Laffer's career began in 1956 with the decision, at age 16, to become a winemaker. He studied agricultural science then oenology between 1957 and 1962 and in January 1963 began working for Lindemans, one of only two publicly listed wine companies at the time (the other was Penfolds).
Lindemans leader at the time, the visionary Ray Kidd, presided over a widespread winemaking enterprise. Australian wine tastes had begun a shift from fortified wine to table wine and Kidd was positioning the company to develop this emerging market.
Lindemans had recently acquired Leo Burings with its strong Leonay sherry brand and emerging table wines, led by the new wave of bright, fresh, slightly sweet sparkling wines, inspired by Orlando's Barossa Pearl, launched for the 1956 Olympics.
Lindeman's winemaking extended to the Hunter Valley (the company's original base), with its strong focus on shiraz and semillon (though marketed in those days under generic names like Chablis and Burgundy), to its increasingly popular multi-region blends, including Cawarra Claret.
So in 1963 when Laffer started work at Lindemans Corowa winery (across the Murray from Rutherglen) he was in the heart of fortified wine country and came under the influence of local legends, including Mick Morris. Bob Menzies was Prime Minister, Australians drove mainly Holdens and Falcons, men drank beer and women enjoyed a shandy or sherry. But table and sparkling wines were catching on.
By the time Laffer moved to Lindeman's Sydney head office and cellars in 1969, he'd played a key role developing the company's Coonawarra vineyards and selecting a site for the massive Padthaway vineyard, an hour's drive north of Coonawarra, near Naracoorte. Ultimately this vineyard, planted in 1970, provided fruit for Lindemans hugely successful export brands of the 1980s (notably Bin 65 Chardonnay).
The huge Sydney cellar brought together wine for Australia-wide blends but was also home to regional specialties from the Hunter, Coonawarra, Padthaway, Barossa Valley, Eden Valley and Clare Valley.
The cellar, at Nyrang Street Auburn (now home to Tooheys) also gave its name to two popular blended reds, Nyrang Hermitage and Auburn Burgundy.
Located at the heart of the enterprise, Laffer now had a hand in making and developing the whole range of company wines embracing fortifieds, sparklings, whites, and reds.
During these years he worked closely with well-known winemakers including Gerry Sissingh and Carl Stockhausen in the Hunter, Greg Clayfield in Coonawarra, John Vickery (Mr Riesling) at Leo Burings in the Barossa and Albert Chan and Philip John in head office.
He was there for the birth of chardonnay in Australia and helped develop both large-volume commercial styles and cutting edge oak matured versions, initially from the Padthaway vineyard – a style he was still influencing when he handed the Jacob's Creek winemaking reins to Bernard Hickin last month.
Laffer moved quickly through the ranks across a diversity of roles, including Technical Director, Sales and Marketing Director and General Manager. Laffer was perceived as a successor to Ray Kidd, but a boardroom mood swing in New York ended that possibility.
Philip Morris Limited had acquired Lindemans in 1971 at about the same time as a number of internationals, including Rothmans and Heinz, piled into Australian wine production. They all departed.
To prepare Lindemans for sale, Philip Morris placed one if its successful tobacco executives, Peter Barnes, at the helm. Following its sale to Penfolds Wine Group, Laffer left Lindemans in 1990.
Shortly afterwards Orlando Wyndham, (as the Jacob's Creek owner was then called) approached Laffer. He joined the company as Production Director but within three years had become Chief Winemaker.
Laffer transferred thirty years' experience to his new employers and with characteristic cheer and energy drove significant quality improvements in vineyards, winemaking, production and storage.
His experience dovetailed with Orlando traditions, too, based on technical innovations by Colin Gramp in the 1950s, and carried on by Gramp's successor (and German import) Gunther Prass and by other long-term employees, notably Stephen Couche, Mark Tummel and Robin Day.
Laffer was instrumental, too, in hiring former Leo Buring riesling master, John Vickery (he'd worked with Buring from the 1950s), and acquiring Buring's Chateau Leonay winery as the new Barossa home for Orlando Wyndham's then Hunter-derived Richmond Grove brand.
Vickery added to Orlando's already substantial riesling making skills. And in developing riesling as Richmond Grove's flagship variety, Vickery purchased grapes from the Florita vineyard at Watervale, source of many legendary Leo Buring rieslings. Philip Morris had sold this strategic asset to the Barry family as it trimmed Lindemans down for sale.
Between them, Laffer and Vickery used Richmond Grove riesling to launch one of wine's most significant technical successes of the twentieth century. In 1998, in conjuntion with Coles Liquor Group's Vintage Cellars outlets, they released the first commercial-scale bottling of top-shelf riesling under screw cap since the failed efforts of the 1970s. Consumers embraced the seal. Thirteen years on it's the dominant seal on Australian wines, red and white.
Laffer was also there across the years steering Jacob's Creek – finessing the style of existing wines and setting the stage for future development. In 2000 the company launched a "reserve" range and then in 2005, with an eye to the regional focus of future marketing, brought the company's flagship regional varietals under the brand – Steingarten Barossa Riesling, St Hugo Coonawarra Cabernet Sauvignon and Centenary Hill Barossa Shiraz. They also included in this range two upmarket cross-regional blends – Johann Shiraz Cabernet and Reeves Point Chardonnay.
Laffer probably suffered at being wrenched from Lindemans after almost thirty years in 1990. He must look back now with sadness at the subsequent terrible destruction of those brands, ultimately consolidated under Fosters.
In contrast, Pernod-Ricard steadily built wine brands capable of surviving even the financial crisis. Behind the brand lies almost two centuries of Australian winemaking tradition and the best of modern innovation – building on knowledge acquired by past generations.
Phillip Laffer is one of those great builders and expanders, influenced by those who've gone before, and a continuing mentor for new generations coming through.
Copyright © Chris Shanahan 2011