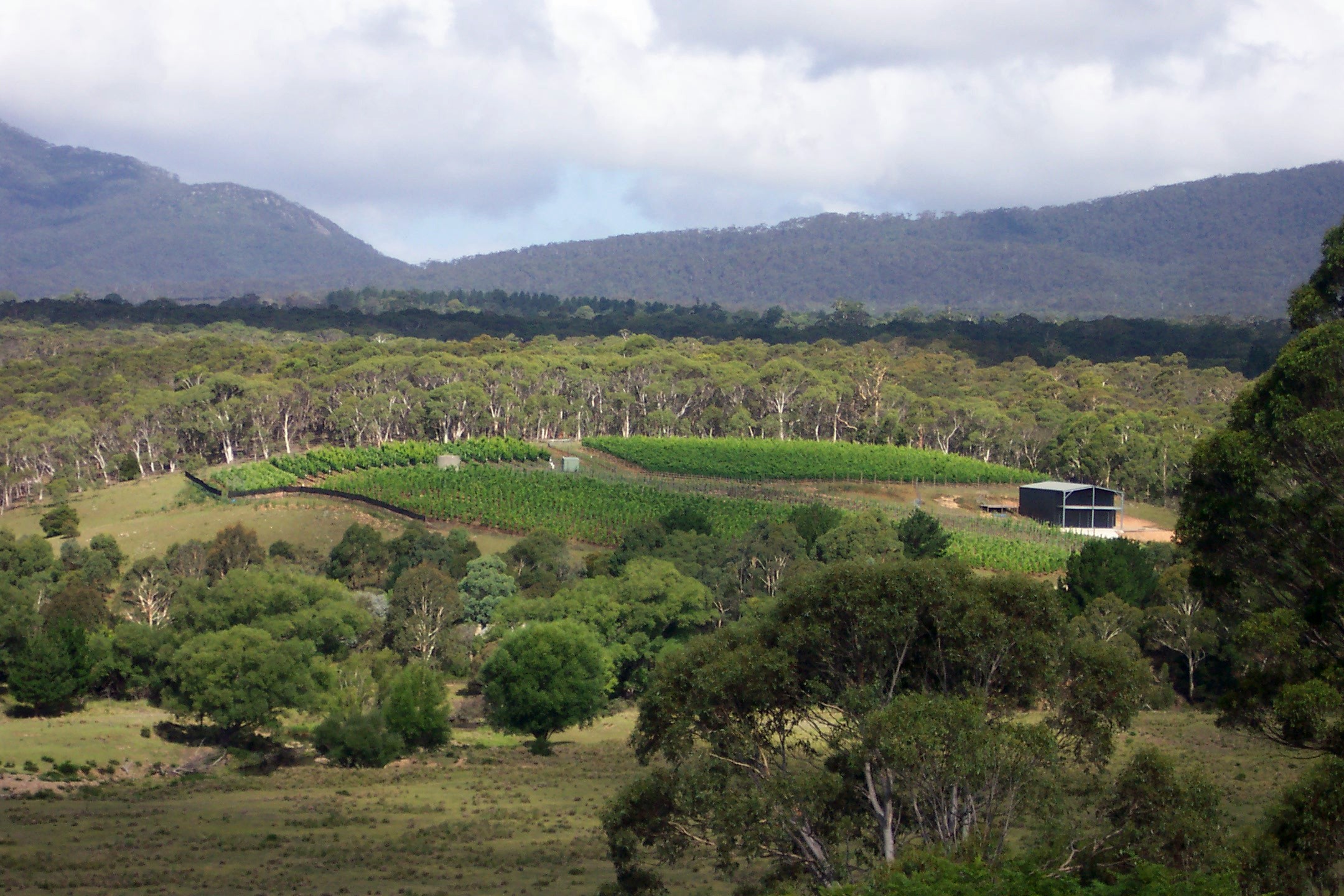 From a little valley near Braidwood comes the outsider that blitzed this year's Canberra regional wine show. Half Moon Riesling 2010 won the 'best riesling' trophy, beating some of our hottest local riesling makers, including Helm, Clonakilla, Four Winds, Ravensworth, Gallagher and Nick O'Leary.
Half Moon then secured the 'best white' trophy then won a taste off with the best red – Hungerford Hill Hh Tumbarumba Classic Shiraz 2010 – to seize a third trophy as champion wine of the show. It was the first riesling in the top spot since Helm Premium 2008 shared the honours with Eden Road The Long Road Hilltops Shiraz in 2009.
The tiny vineyard – located near Mongarlowe, about 16 kilometres from Braidwood – belongs to Sydneysiders Tony and Robyn Maxwell. Manager Malcolm Sharp says the wine bug bit Tony Maxwell in the nineties when he established a vineyard at Rylstone, near Mudgee.
With Rod James, he planted vines at Nullo Mountain, a challenging site within the Mudgee region – but, at 1100 metres, totally different viticulturally. While the pair pulled out many of the vines during the industry downturn early last decade, the wine bug remained with Maxwell.
He asked Sharp, a long-term friend, if he'd look after a vineyard if he planted one on his weekend block at Mongarlowe. What Maxwell had in mind, recalls Sharp, was a very small vineyard he could enjoy, with the aim of making good wine.
Sharp says he knew nothing about vineyards, but accepted the task and planted 200 vines each of riesling and chardonnay in 2000. While Maxwell and Sharp were aware that some people regarded the frost-prone site as an unlikely place to grow grapes, the first vines reached the cordon in the first year, suggesting they could be onto something.
But a subsequent planting of merlot failed and a run of heavy frosts in October 2006 destroyed 500 vines, including a block of pinot noir. Tempranillo took off well, but as the stock they planted carried a virus, Sharp dug them out and planted more riesling, by now a consistent performer.
The vineyard now includes shiraz, viognier, pinot gris, sauvignon blanc, chardonnay and riesling.
Early on, Maxwell introduced Sharp to well-known viticulturist David Botting (he'd consulted on the Nullo Mountain vineyard). And Botting, impressed by the vineyard, came on board as consultant.
At the time the grapes were being trucked to David Lowe's winery at Mudgee, a legacy of the Nullo Mountain venture. But Botting suggested making the wines closer to the vineyard. The whites in particular, he recommended, needed quick processing. He arranged a meeting on site between Maxwell and Sharp and Murrumbateman winemaker, Alex McKay. As a result McKay took over the winemaking from 2008.
McKay describes the Half Moon site as a little bit cooler than Canberra with double the rainfall (on well-drained soil), with more humidity – a plus for retention of grape aroma and flavour.
He says, "management is first class with a level of attention and hand work you'd be more likely to see in Europe than around here".
Malcolm Sharp confirms he and his wife Jenny do the majority of work by hand, with a little spraying from a quad bike on one flatter section. On the steep sections, for example, Jenny reels the spray hose out to him from a utility parked at the top as he descends and sprays on foot; then reels him in like a lifesaver as he struggles back up the slope.
To date, says McKay, riesling shows the most consistency and potential. It starts with "enormous levels of acid", he says, so as a young wine it's difficult to see the fruit quality lurking under the acidity. But it's there he say, as the trophy winning 2010 demonstrates, having fleshed out notably in the two years since bottling.
That high acidity, reasons Sharp, comes from the very cool site. The vineyard, at around 630 metres, is flanked by higher ground, with the coastal escarpment immediately to the east. The days tend to be warm to hot, but cold air pools there in the evening, with overnight temperatures of just four and five degrees common during the growing season.
McKay rates the chardonnay as very good, too, and similar in style to wines from Tumbarumba. But production of just one barrel a year provides little scope to explore the style.
He's optimistic about shiraz even though it's difficult and harvested from the individually staked bush vines "at the dusk of vintage". He adds, "We can't say as emphatically it's as suited as riesling".
While the trophy-winning riesling sold out quickly, the 2011 (a very good wine needing time, says McKay) has been released. It and the other Half Moon wines are available at Plonk, Fyshwick Markets, and at Local Liquor and Boutique Wines on Wallace in Braidwood.
This is a producer to watch, though production will remain small. Tony Maxwell has no plans to expand the vineyard says Malcolm Sharp.
Copyright © Chris Shanahan 2012
First published 24 October 2012 in The Canberra Times