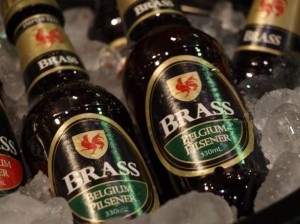 In the past, Australian breweries have produced beer in PET plastic bottles, principally for safety at large-scale event – protecting people from liquor fuelled violence or simply keeping benign drunks out of harm's way.
Recently, however, Fluid Wholesalers, Sydney, introduced a plastic-packaged Belgian beer to the market, promoting its environmental as well as safety benefits.
Distributor Allan Hayes writes, "It is in a patented PET bottle which protects it from any reaction with the plastic and provides nine months life from production. We developed this as we saw a gap in the market for safe, lightweight and more environmentally friendly option over glass and aluminium".
Initial distribution is Australia-wide through Woolworths'-owned Dan Murphy outlets and a few independent Sydney retailers.
Brass comes in two styles – Lager and Pilsener (which means they're both lagers, the pilsner, reviewed below, being notably more lively and bitter, and the lager OK, but not exciting).
Brass Belgium Pilsener 330ml 6-pack $14.99
I couldn't bring myself to drink from the plastic bottle, so glug, glug, glug, into the glass it went. Clear, pale-golden colour, good head retention and lively carbonation all raised hopes; the aroma and palate were as fresh as the appearance suggested. And the intense, bitter hops balanced the malt richness well.
Copyright © Chris Shanahan 2012
First published 22 February 2012 in The Canberra Times