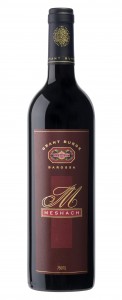 Grant Burge Meshach 2008 $124–$180
Filsell and other vineyards, Barossa Valley
On a visit to Canberra in April, Barossa winemaker Grant Burge said warm climate shiraz seemed to be off the radar of many wine judges and some wine shows. This appears to be a fashion statement, he said, and completely out of touch with the market, where sales of McLaren Vale and Barossa shiraz continue to grow. The disparity between the perceptions of consumers and judges illustrates the wonderfully contrasting styles of shiraz we now make in Australia – from the spicy, peppery, fine-boned versions from cool areas to the inky deep styles from warmer climates. Burge's flagship red, Meshach, stands as one of the very best of the inky deep Barossa style. It's a big, beautifully balanced wine, saturated with ripe varietal flavour and cut through with soft fruit and oak tannins. It's built for long-term cellaring.
Thomas Vineyard Selection DJV Shiraz 2011 $27–30
Lindemans Ben Ean Vineyard, Hunter Valley, NSW
What a contrast there is between this silky,medium bodied shiraz and the fruit-saturated power of Grant Burge Meshach, also reviewed today. Our national red hero, shiraz, shows many faces, including this idiosyncratic one from Hunter Valley shiraz and semillon specialist, Andrew Thomas. DJV delivers clean, fresh, vibrant fruit flavours, in the modern style, coupled with the Hunter's traditional, savoury, earthy undertones. Soft, fine tannins and medium body give DJV an elegance seldom seen in warm climate reds. Thomas says he co-fermented the shiraz with 12 per cent semillon verjuice, which contributed much to the lighter, drink-now character of the wine.
Tyrrell's Old Winery Chardonnay 2012 $10.45–12.99
Hunter Valley, NSW
Old Winery, first made in 1979 and fine-tuned ever since, rates among Australia's best budget chardonnays. It combines liveliness and freshness with chardonnay's full flavour and a rich, smooth texture. The appealing, ripe, varietal flavour comes from good fruit. And the rich, smooth texture, says Bruce Tyrrell, comes from "all the techniques of solids in the ferment and lees stirring but on a larger scale in a tank rather than a small barrel".
Jacob's Creek Steingarten Riesling 2012 $24.60–$32
Eden Valley, South Australia
The Steingarten vineyard, planted by Orlando's Colin Gramp in 1962, lends it name (and contributes part of the fruit) to Jacob's Creek's flagship riesling. I enjoyed a pre-release sample of the wine in January; and a recent taste confirms it as one of the best from a great year. It's delicate and intense at the same time with exhilarating acidity and pure, lime-lemon varietal flavour. Stock up when it's on special and put a little aside. Past vintages have aged well for decades – for example, the comparably outstanding 2002 vintage still looks young and fresh.
Dandelion Vineyards Menagerie of the Barossa
Grenache Shiraz Mataro 2011 $21–27.50
Gomersal, southern Barossa Valley, South Australia
The cold, wet 2011 vintage hit the Barossa Valley particularly hard, wiping out huge tracts of vineyards. Dandelion's blend, then, came as a delightful surprise – a tender, juicy, seductive drop that made the bottle seem too small. It's a blend of grenache (85 per cent), shiraz (10 per cent) and mataro (aka mourvedre or monastrell). The back label hints at how winemaker Elena Brooks and the Dandelion crew saved the day, "handpicking selected bunches" (that is, avoiding the rotten ones) of the three varieties for co-fermentation and ultimate success. What a more-ish wine this is.
Brown Brothers Victoria Tempranillo 2012 $12–$18
King Valley and Heathcote, Victoria
Brown Brothers test new wine styles by making small quantities in its kindergarten winery, then putting them on tasting and sale at its extraordinarily busy cellar door. If visitors like a wine, they ramp up production, as they did with this lovely tempranillo. They source this Spanish variety from their own vineyards at Banksdale, King Valley, and Heathcote. The 2012 delivers attractive ripe, plummy fruit flavours on a dry, savoury, medium bodied palate.
Copyright © Chris Shanahan 2013
First published 15 May 2013 in The Canberra Times and goodfood.com.au