Bourgogne Pinot Noir (Henri) 2010 $20–$25
The success of new world varietal labelling convinced some French producers to follow suit. They saw, for example, that "pinot noir" added to "Bourgogne" (Burgundy) enlightened those not up on French wine lore – essentially that regional names like Burgundy also convey varietal meaning for those in the know. Henri, imported by Coles for its 1st Choice and Vintage Cellars outlets, offers a bright, clean, modern expression of the world's original pinot noir – sealed hygienically under screwcap. It's medium bodied, with savoury character and fine, firm backbone of tannin separating it in style from the generally fruity, soft Australian styles.

Climbing Orange Pinot Gris 2012 $18–$24
The press release accompanying this new release reports on the phenomenal growth of pinot gris/grigio production in Australia – from 2000 tonnes in 2004 to 54 thousand tonnes in 2012. Those figures equate to about 140 thousand and 3.8 million dozen bottles respectively. A good deal of it's pretty insipid. But this version, made in Orange's suitably cool climate, captures the "gris" style pretty well. It's fresh and crisp, with subtle, pear-like varietal flavour and plush, velvety texture. Winemaker Debbie Lauritz says she picks grapes at various levels of ripeness to capture fresh acidity, varietal character and full body.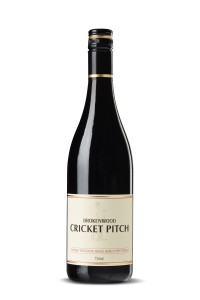 Brokenwood Cricket Pitch Red 2011 $14.95–$20
Cricket Pitch's mixed ancestry gives it the appeal of the family's warm and friendly "bitza" dog – a well-travelled mixed breed at that. The winemakers threw everything into the vat: cabernet sauvignon, shiraz, merlot and petit verdot. And they sourced various bits and pieces from the Central Ranges and Hunter Valley, NSW, Beechworth, Victoria, and McLaren Vale, South Australia. So the wine doesn't much resemble any single one of those varieties or regions. What you get though is a frisky, fruity red with the body of shiraz and the various spikes and bones of cabernet, merlot and petit verdot – a decent, warming red at a fair price.
Copyright © Chris Shanahan 2013
First published 16 June 2013 in the Canberra Times