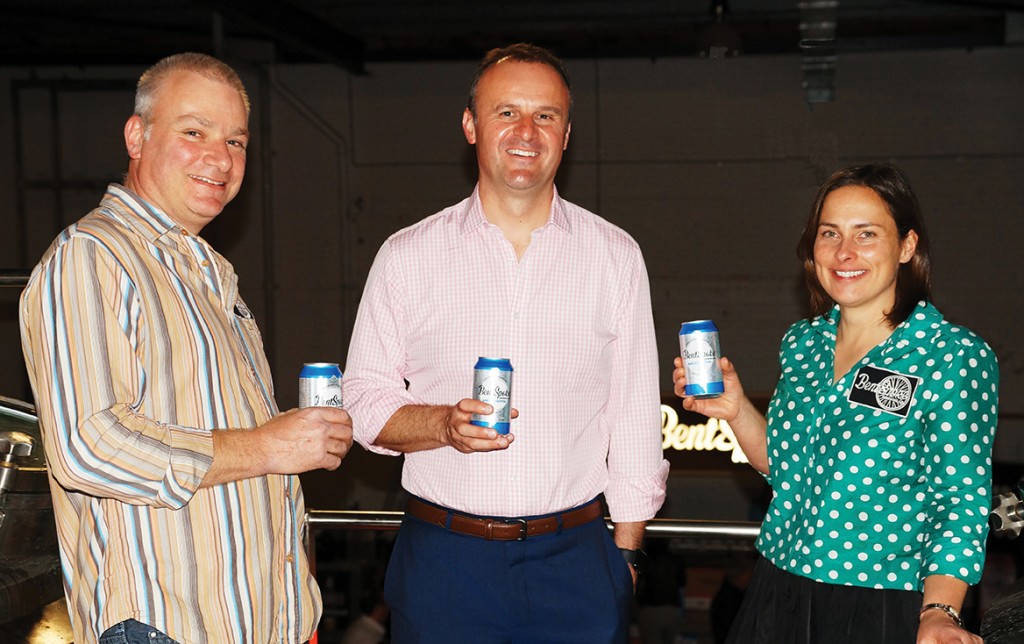 BentSpoke Brewing Co yesterday unveiled its second brewery and a high-speed canning line, located in Mitchell, a Canberra industrial suburb.
Brewer Richard Watkins says the new facility has the potential to brew six million litres a year – equivalent to 666 thousand nine-litre slabs – making it by far Canberra's biggest brewery.
Until an on-site bar opens in mid-2017, the brewery's output will be devoted to cans and kegs for distribution around Canberra.
Since opening in mid 2014, BentSpoke's original brewpub, located in inner city Braddon, has produced around 300,000 litres of beer across about 50 styles. The beers have all been served on site from tap.
However, the opening of the larger Mitchell brewery, with its canning and keg-filling capacity, puts BentSpoke into the highly competitive wholesale beer business. It will fight for tap and shelf space against both mainstream and craft brewers, including Canberra locals Zierholz, Pact Beer Co and Capital Brewing Co.
Watkins says local retailers are keen to support local brewers and by launch date on 3 November, 11 outlets had signed up. These included Plonk, Prohibition, Ainslie Cellars, Curtin Cellars, Jim Murphy Fyshwick and Airport, Page Bottle-O, and the Woolworths-owned BWS stores at Calwell, Franklin and Mawson.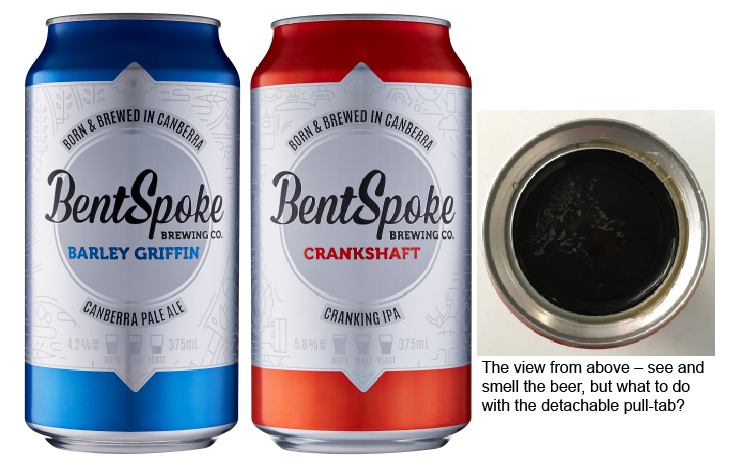 For the launch, Watkins released canned versions of two popular BentSpoke brews. Mid-strength (4.2% alcohol) Barley Griffin Canberra Pale Ale offers ultra fresh flavour with distinctive hops filling the mid palate and giving a vigorous, lingering bitterness. It's streets ahead of most mid-strength brews. Crankshaft IPA, at 5.8% alcohol, delivers opulent malty character, citrusy hops flavour and thrilling bitterness – a delicious version of this popular, characterful USA West-Coast style.
Both come in 375ml aluminium cans with a pull-tab that completely detaches as it opens almost the entire diameter of the can.
Before commissioning the new brewery, Watkinson hired former James Squire brewer Mick Rance. "He's a great brewer", says Watkins, "and he's got the technical skill to use the canning equipment. We have very low oxygen levels in our beer, as low as the big brewers, which is a big achievement".
Watkins believes cans offer several advantages over bottles: they're impervious to light, they don't smash, and they're light. The rip-top version he selected gives a wide, round opening that allows the drinker to see and smell the beer – a notable improvement over other pull-tabs. However, the tab detaches completely, leaving a sharp-edged, 50-cent-sized circle of aluminium to dispose of.
That's a retrograde step in my opinion, reminiscent of the first detachable rip-tops of the 1970s. Discarded tabs from beer and soft drinks littered the ground everywhere. Some people even swallowed them after they'd been dropped into cans. After medical, environmental and public outcries, businesses eventually replaced them with tabs that remained attached. While people are unlikely to swallow the large new tabs, the fact that they detach from the can creates a litter problem, and leaves a loose end on a technology that otherwise benefits the consumer.
BentSpoke Brewing Co is a partnership between Richard Watkins and Tracy Margrain, and the Meddings family, owners of Melbourne-based brewing supplier Bintani Australia.
Copyright © Chris Shanahan 2016