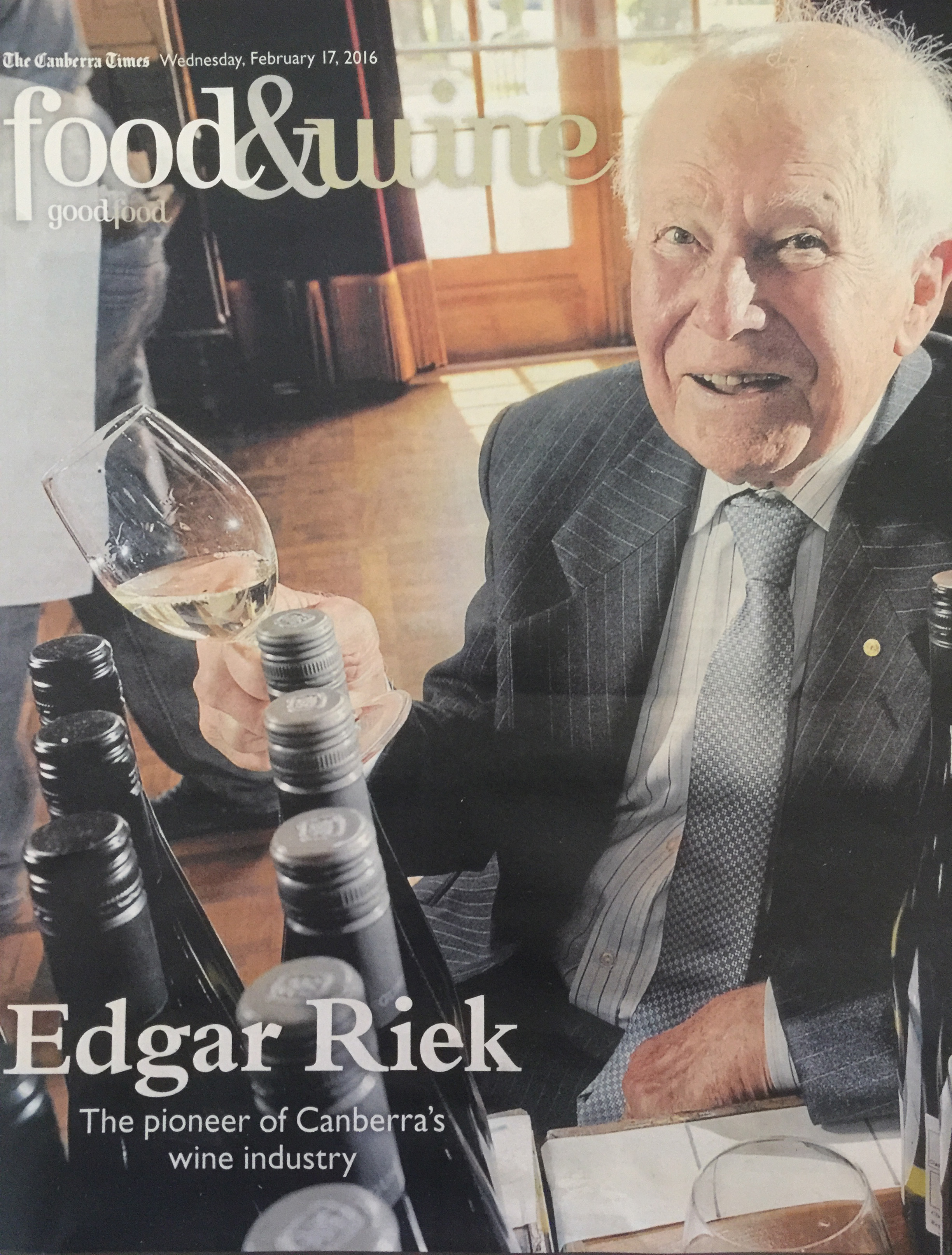 Dr Edgar Riek
1 May 1920 to 9 February 2016
How can we sketch even a portion of a life as long, rich, varied and inventive as Edgar Riek's? The 95-year-old Canberra wine pioneer, and founder of the National Wine Show of Australia, died Tuesday 9 February 2016, following a fall a day earlier.
Riek's influence rippled through every one of the diverse areas that came under his gaze, including his distinguished CSIRO science career, viticulture, wine, winemaking, horticulture, fly fishing, bridge and food.
In a Canberra Times article marking Riek's 90th birthday in 2010, Albert Caton chronicled some of Riek's non-wine-related achievements:
"One of the old-school natural scientists, Riek's main professional interests concentrated on the study of insects. He wrote eight of the chapters of the definitive Insects of Australia. Somehow, he also managed to find time to prepare a definitive taxonomic work on the Australian freshwater decapods (yabbies, marrons, Tasmanian freshwater crayfish, and such)".
Caton also notes Riek's breeding, at his Lake George property, of prickle-less prickly pear and thin-skinned walnuts. He also established there hundreds of fruit and nut trees, including truffle-inoculated hazelnuts, a magnificent bay tree and a spectacular mulberry tree. Later, in his Ainslie backyard, he crossed small, looking-up hellebores with a tall, droopy variety to produce a vase-friendly, mid-sized, looking-up version.
Perhaps Riek's most enduring contribution to Canberra horticulture, came long before his move into grape growing. At a time when garden books referred to European practices, he contributed chapters for the Canberra Gardner (now in its 10th edition) on "varieties growing in Canberra and their propagation", writes Caton.
In 1953, eight years after joining the CSIRO in Canberra, Riek and others founded the Canberra Wine and Food Society. The club originally bottled its own wine, but gradually developed an extensive cellar and took food as seriously as it did wine. But Riek's interest in wine and food extended well beyond club activities.
A 2006 Canberra Times article reported Riek worked for a time on CSIRO weed research in Bright, Victoria, and took the opportunity to visit nearby Rutherglen. "I just started going to Rutherglen fairly regularly, two or three times a year, and got to know that industry very well – so much so that they invited me to judge at the Rutherglen shows", said Riek.
The Rutherglen connection sparked a life-long friendship with winemaker Mick Morris and led to Riek's great expertise in making and blending fortified wine. Indeed, a barrel of Riek muscat lies under his Ainslie house. And other barrels of fortified remain in Riek's old winery, says current owner Peter Wiggs.
Later, Riek and his wife Mary purchased land on the western shore of Lake George. Here they pastured their daughter Helen's horse and established fruit and nut trees. In 1971, shortly after buying the land, Riek planted his first grape vines. In the same year, another brilliant CSIRO scientist, Dr John Kirk, planted vines at Murrumbatemen.
The Canberra wine industry was thus established in 1971 by two distinguished scientists acting entirely independently of one another.
With little information about which wine grapes might grow best, Riek planted 40 varieties, including several native American and Chinese vines. However, the Burgundy varieties, pinot noir and chardonnay, featured prominently in the 3.25-hectare vineyard.
He held great hopes for the pair, and at a lunch celebrating the 41st anniversary of the Canberra District Vignerons Association on 20 November 2015, Riek recalled, "I thought we had Burgundy conditions".
Like any of Riek's decisive actions, his selection of the Lake George site resulted from a thorough understanding of what was required to grow grapes and other plants successfully.
Winemaker Alex McKay worked on the property during Riek's ownership. He also led a rejuvenation of the site for the Karelas family some years after they purchased it from Riek.
McKay says, "His site selection was absolutely brilliant. It was brilliant how he worked it out". Riek had figured that even on a very slight slope, warm air moved to the slightly higher northern end of Lake George, providing a measure of frost protection. And Riek had told winemaker Ken Helm how his car windows defrosted as he drove along that section of the lake.
McKay adds, "the soil, drainage and aspect" all suit grape growing, and "you would struggle to find better sites in the area".
By "sites", McKay refers not just to the Lake George vineyard, but a vineyard site Riek selected on Mount Majura for a friend, Dinny Killen in the late 1980s. The vineyard now belongs to Mount Majura Winery.
Winemaker Frank van der Loo says he came to Majura aware Riek had selected the site. But he became deeply impressed as he realised the depth of Riek's involvement. He selected the site for a reason, then designed the irrigation and vineyard layout and even helped in the digging and planting.
Had Riek done nothing more than establish Lake George vineyard and identify the Mount Majura site, he would have left an enduring legacy. But his influence reached far wider.
On the strength of Riek's savoury pinot noirs, Jim Lumbers hoped to establish a vineyard next door. He sought Riek's help, and he obliged. "Edgar persuaded the owner, Betty Bolas [Riek's next door neighbour in Ainslie], to subdivide the land and sell half to me", recalls Lumbers. He adds, "Edgar identified the best bit of the land [for a vineyard]". Lumbers, with partner Anne Caine, subsequently established Lerida Estate and winery on the site.
In 1974, Riek with John Kirk and Ken Helm formed the Canberra District Vignerons Association. All three attended its 41st anniversary lunch last year, where Riek gave what was probably his last public speech.
Riek's wine interests reached well beyond the Canberra District. Over many years he developed a network of friendships with major figures in the Australian industry.
The networks indicate deft political skills on Riek's part, which he used to build the Canberra Wine Show, later the National Wine Show of Australia, on behalf of the National Capital Agricultural Society.
Riek acknowledged support he received in the early days from the Hunter Valley's Murray Tyrrell and Lindeman's Ray Kidd. And over a longer period, the influential Len Evans helped Riek forever tweak the quality of the national show.
Riek's intense curiosity about every aspect of food and wine (and whatever else attracted his interest) drew him into a wide network of colleagues and friends. Those interviewed for this article noted an intense, unremitting curiosity, inventiveness, ability to apply knowledge, and a lifelong willingness to embrace and explore new ideas.
Winemaker Nick O'Leary described him as "a good friend and mentor" who only recently visited the winery to comment on his 2015 wines. Winewise owner, Lester Jesberg, likewise called him a friend and mentor.
Alex McKay of Collector Wines worked with Riek as a uni student. Riek inspired him to become a winemaker through his "attention to detail, precision and deep understanding of biology, ecology and so on". Riek also loved the sensual rewards of his trade and insisted on good food and interesting wine with lunch after a hard morning's work.
"He was the ultimate forager", says McKay, with a profound understanding of seasons and habitats. Riek would visit Lake Bathurst for sea-eagle eggs, climb nearby poplars for other eggs and eat anything that moved or grew.
Suzie and Ian Hendry, long-term vignerons, recall being alarmed by Riek's appetite for fungi. Despite his great knowledge on the subject, he'd occasionally announce plans to try a new variety and would they please check up on him if he didn't visit in the morning. They eventually paid for a phone to be installed in his farm cabin.
Riek's old friend, wine merchant David Farmer, recalls, "Edgar would try things. He didn't dismiss ideas. He embraced them. He would try, reject and try something new. He would join with other like-minded people in a collegiate approach". That collegiate, scientific approach became a founding principle of the Canberra wine scene. Riek's influence on it was profound and will continue.
Copyright © Chris Shanahan 2016
First published 16 and 17 February 2016 in goodfood.com.au and the Canberra Times