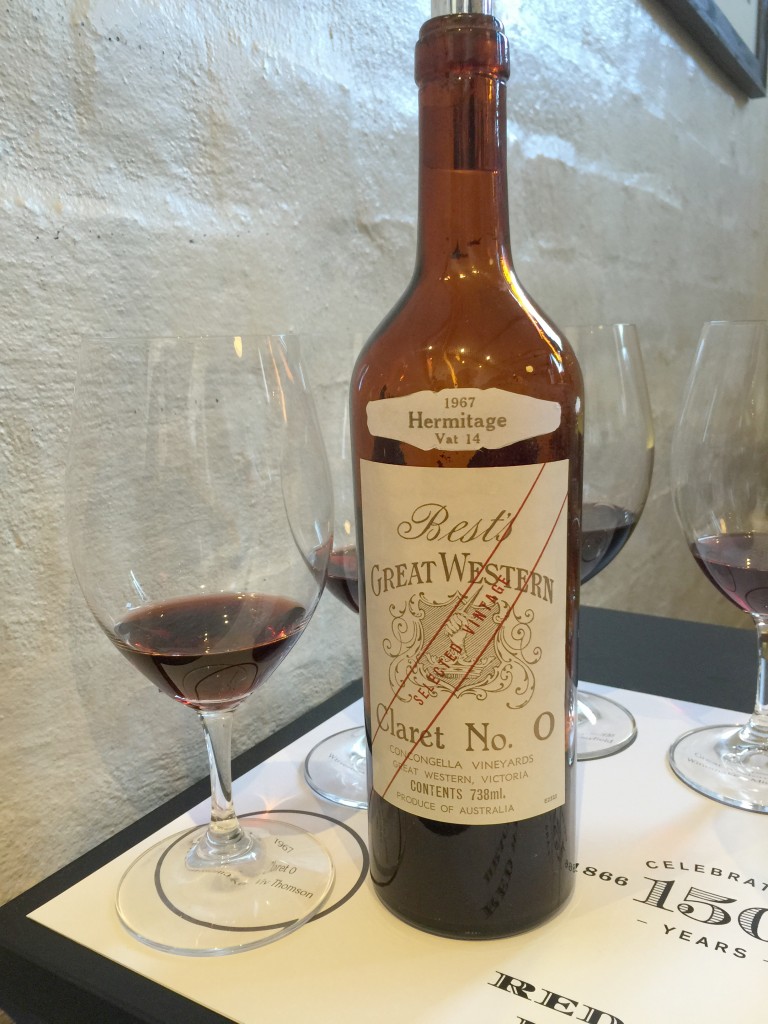 Best's Great Western Foudre Riesling 2015
Best's Concongella Vineyard, Great Western, Grampians, Victoria
$35
In 2012 as Adam Wadewitz handed over winemaking to Justin Purser, a 2500-litre oak vat showed up in Best's winery, to the surprise of owner Viv Thomson. As best they could, the winemakers scoured the new, woody flavour from the foudre before filling it with riesling juice for a spontaneous fermentation. The resulting wine put a smile on Thomson's face, removing any trace of scepticism about the new vessel, and became the first of a new riesling style from Best's historic Concongella vineyard. Skin contact, spontaneous fermentation, and the use of oak rather than stainless steel adds textural richness and subtle flavours to the riesling, which remains lemony, fresh and delicate. It's a delicious drink, reminiscent of Alsace riesling in flavour and texture, albeit in a more delicate style.
Best's Great Western PSV 141 Pinot Noir 2014
Best's Concongella vineyard 1868 block, Great Western, Grampians, Victoria
$150
In 1866, Henry Best bought Concongella, a Great Western property, and established vines from 1867. In 1920, seven years after Best's death, William Thomson bought the business, which is today owned by fourth generation Viv Thomson and his wife Chris. Marking Best's 150th anniversary in May, Thomson released four remarkable reds including two from a vineyard Best planted in 1868. Within that vineyard, lies a plot of gnarled old pinot meunier vines. And sprinkled among the meunier, are 141 pinot noir vines, believed to be the world's oldest. Bunches from those vines were sealed and fermented in a vessel for three months before being pressed to barrel for maturation. The result is stunning and potentially long lived – a limpid pinot of great flavour concentration, combining fruit, savour and a firm, fine tannin backbone.
Clonakilla Viognier Nouveau 2016
Clonakilla V and L 2 Block, Murrumbateman, Canberra District, NSW
$25–$28
Clonakilla goes against the trend with its popular, fresh, easy drinking viognier – a variety given to heaviness on the palate and slow sales. Winemaker Tim Kirk says to keep Nouveau light and fresh he makes it as he does riesling – gently separating the juice from the skins, using a whole-bunch press and fermenting it cool in stainless steel tanks. The process keeps the wine fresh and bright and captures the variety's distinctive ginger- and apricot-like flavours. The rich texture and grippy finish add to the wine's distinctive character. It's a style to drink fresh each vintage.
Ross Hill Maya and Max Chardonnay 2015
Orange, NSW
$20
Oak barrels are in indispensable part of chardonnay making. But using oak barrels adds to the expense – not just in the cost of oak, but also in the extra labour required. Winemaker Phil Kerney builds a complex chardonnay and contains price by using a combination of oak barrels and stainless steel tanks. Maya and Max combines bright fresh, nectarine-like varietal flavour with smooth texture and a funky note from the barrel-fermented material.
Rymill The Dark Horse Cabernet Sauvignon 2014
Coonawarra, South Australia
$17–$23
From the Rymill family's extensive Coonawarra holdings, winemaker Sandrine Gimon makes a range of cabernet styles, including the fresh, fruity, drink-now Dark Horse. The aroma and palate show great vitality in Coonawarra's distinctive ripe, red-berry varietal style. The elegant palate appeals for its juicy, fresh fruit flavour, which is offset by fine, grippy cabernet tannins.
Ad Hoc Avant Gardening Cabernet Sauvignon Malbec 2014
Riversdale vineyard, Frankland River, Western Australia
$17.95–$21
Though comparable in price, Larry Cherubino's Avant Gardening heads down an entirely different path to Sandrine Gimon's Rymill Dark Horse cabernet reviewed today. The wines share some of the bright, fresh, aromatic berry character of young cabernet. But there the similarities end. Gimon's wine remains on the fresh, fruity path, while Cherubino's goes to darker, grittier places. Malbec no doubt plays its part in Avant Gardening's deeper colour and firmer tannins. But the different origins – South Australia's Coonawarra versus the West's Frankland River – also influence the wines.
Copyright © Chris Shanahan 2016
First published 1 June 2016 in the Canberra Times Food & Wine Magazine and ct app