Wynns Coonawarra Estate Michael Shiraz 2013 $114–$120
Winemaker: Sue Hodder
Tasting: masked, with food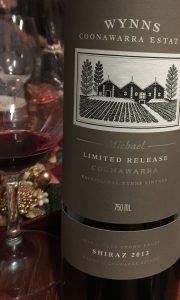 David Wynn made the first Michael shiraz in 1955 – a bottling of an outstanding parcel of shiraz memorialising his late son Michael. The one-off wine built a great reputation as it aged, and was one of the standouts in a 1997 tasting of all Wynns shirazes from 1953 to 1995.
Wynns made its second Michael Shiraz in 1990, albeit it in a more alcoholic, tannic style than the original. Production of this powerful style continued through the 1990s but was halted after the 1998 vintage.
Influenced by the beauty and longevity of those early low-oak, lower alcohol vintages in the 1997 tasting, winemaker Sue Hodder, with vineyard manager Allen Jenkins, began refining the Wynns' red styles.
As part of this wider project, Michael reappeared with the 2003 vintage. And over the next decade as Jenkins transformed the vineyards and Hodder took control of a new small-batch winery, the style evolved further.
The 2013 vintage shows the spectacular result of that work. Pure, sweet, berry-and-spice varietal character combine with fine fruit and oak tannins in the most intense, harmonious way imaginable.
We can never know exactly how the 1955 tasted at the same age. But I recall the (in retrospect) too sturdy versions of the 1990s in their youth, and the beautiful, elegant wines of the 1950s at 40 years.
The 2013 stands somewhere between these two styles, drawing on the best of each. It's a triumphant evolution, lifting Coonawarra shiraz from potential to greatness.
Copyright © Chris Shanahan 2017