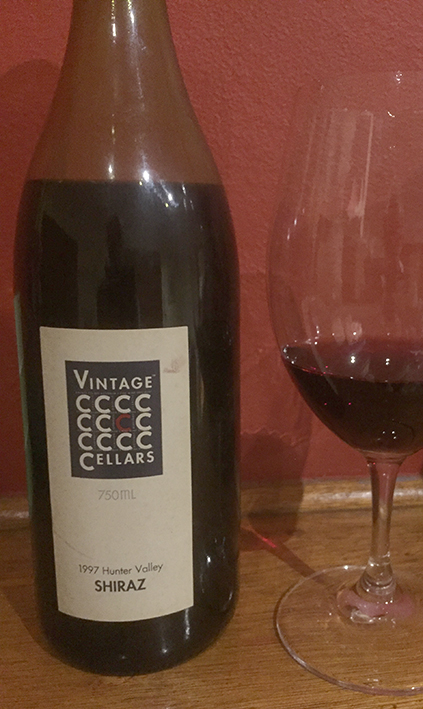 Vintage Cellars Hunter Valley Shiraz 1997
Covid-19 Chateau Shanahan cellar clean-up. What's this? Vintage Cellars Hunter Valley Shiraz 1997, last bottle of a dozen. It's dinner time for you old friend. Upstairs of course. Nowhere else to go. Will it be OK?
No ullage. Cork intact.
Appearance: limpid, light to medium hue, fading red colour but not brown. Encouraging for a 23-year-old bought for less than $10 a bottle. Fingers crossed.
Aroma: savoury, earthy, Hunter, still fruity, meshed with the warm, gamey decay of age.
Palate: medium bodied, flavour reflecting the aroma, aged but fruity, with fine, grippy, savoury tannins. In the old 'Hunter Burgundy' style: elegant but earthy, idiosyncratic. Clean, fresh.
If only all cellared reds scrubbed up so well.
History
In the mid-1990s Hunter-based Len Evans introduced the wine to us at Vintage Cellars, the fine wine brand of Liquorland Australia, the retail liquor arm of what was then Coles Myer Limited.
We liked the wine and its provenance: medium bodied in the traditional regional style, sourced from the highly regarded Somerset vineyard, Pokolbin, and made by Hunter veteran Keith Tulloch.
'Traditional' and 'medium bodied' sound normal descriptors now for a Hunter shiraz. But it went against an Australian trend in the late 1990s towards powerful reds, often laden with oak. We saw this even in regions noted for elegant reds – for example the Hunter and Coonawarra. A good number of makers wisely avoided the trend. But for those of us judging at wine shows during this period, the heavy styles, largely the result of winemaking inputs, were widespread.
I liked the wine enough to buy a dozen bottles. It provided good drinking over the following 10 years. However, the last bottle sat there more by neglect than design until the Covid-19 clean-up unearthed it.
What a rare and lovely regional oldie. Here's to the late Len Evans, Keith Tulloch and my old mates at Vintage Cellars.
Copyright © Chris Shanahan 2020