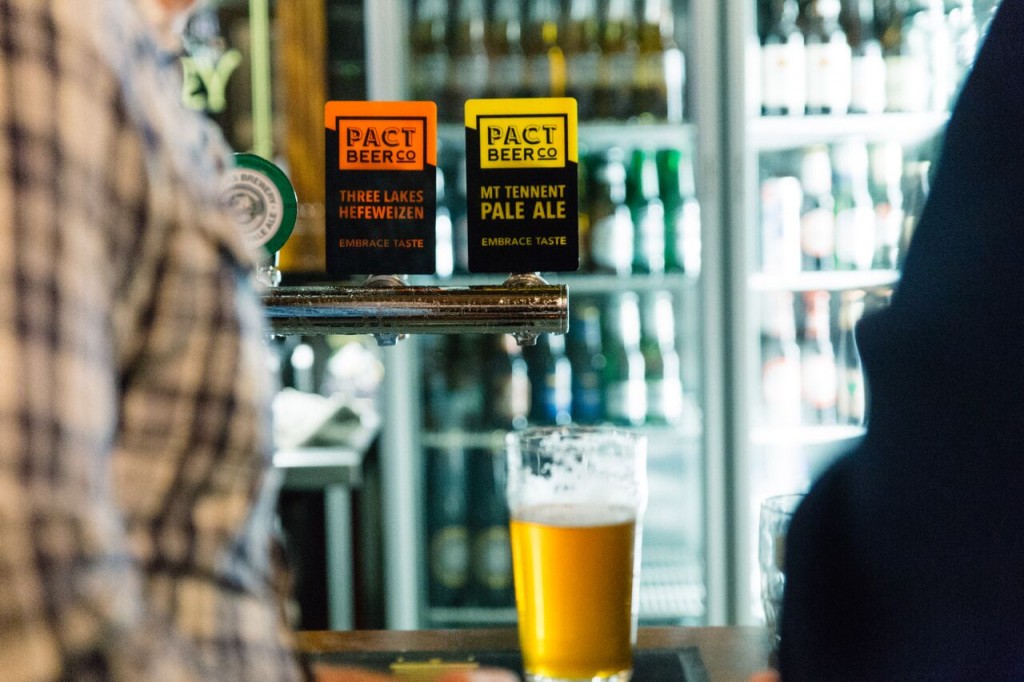 Pact Beer Co, Canberra's ambitious new brewer. Photo Giancarlo Del Miglio
Like the Wig and Pen, Zierholz, and Bent Spoke, Canberra's new brewer, the Pact Beer Co, arose from the vibrant, anarchic underworld of home brewing.
In 2014, Kevin Hingston, a keen home brewer, became national winner of the Australian Amateur Brewing Championships.
His appetite whet, Hingston moved into the professional ranks this year. With the backing of Canberra-raised mates Mark Grainger and Tim Osborne, Hingston brewed Pact Beer Co's first ales at craft breweries in Sydney and Melbourne – a widespread practice known as gypsy brewing.
He offers the beers on tap at the Transit Bar, the Durham Castle, the Pot Belly, the Old Canberra Inn and A. Baker, and take-away "growlers" at Plonk.
Hingston plans to introduce bottled beer into Canberra by September, and has ambitions to build a sizeable brewery here in future. "We'd like a brewery larger than the existing Canberra operators – large enough to supply wholesale", Hingston said.
Pact beers reviewed
Pact Beer Co Brickworks Brown Ale schooner $7
"Gypsy" brewer Kevin Hingston launched Brickworks Brown Ale at the Durham Castle, Kingston, on 16 July. The beer pours deep amber with an abundant, inviting head. Strong, floral hops aromas leads to a rich, warming palate, with flavours of caramel, malt and roasted grains under the pervasive hops, which linger in flavour and bitterness.
Pact Beer Co Tennent Pale Ale schooner $7
A big, bold beer in the American pale ale style, Tennent sets pungent, resiny hops against rich, sweet, malty flavours. Hops dominate from first sniff to the lingering aftertaste, in an harmonious and characterful interpretation of the style. On tap at Durham Castle, Transit Bar, Pot Belly and Old Canberra Inn.
Copyright © Chris Shanahan 2015
First published 28 and 29 July 2015 in goodfood.com.au and the Canberra Times