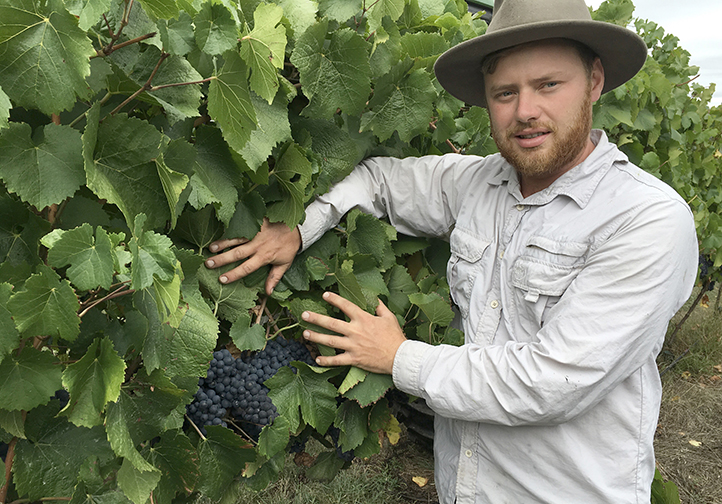 Canberra's grape vines slept in last spring, ending a run of early starts to the growing season. Cool spring weather, rain (and resulting cold soils) retarded budburst, flowering and fruit set, setting the scene for the latest harvest in years, though not late by historical standards.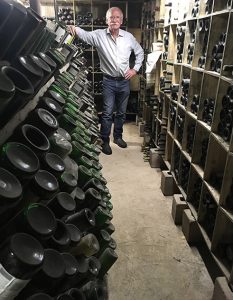 At Murrumbateman on 22 March Ken Helm observed, "Picking times are back to the long-term average here after the earliest vintage on record in 2016". He anticipated picking the last of his valley's crop – late-ripening shiraz and cabernet sauvignon – at the end of the first week of April.
The first fruit he processed, gewürztraminer, came from his daughter and son-in-law's nearby vineyard, The Vintner's Daughter. It was the only non-riesling bubbling away in his big, new riesling cellar, completed just in time for vintage.
A week and several rain storms after that visit, Helm harvested healthy, ripe shiraz but thought cabernet sauvignon required another two weeks to ripen. Despite a prediction of more rain, "It's bullet proof", he believes.
By month's end Helm rieslings from Canberra, Orange and Tumbarumba were through fermentation and "looking fantastic", he says.
At Lerida Estate, Lake George, 10mm rain on 5 March couldn't dampen owner Jim Lumbers' outlook. As a welcome breeze dried out the grapes, Lumbers described the 2017 vintage as "Wonderful, with the biggest yield ever and quality almost perfect".
He said, "We picked pinot noir for rosé last week and we'll harvest an even bigger crop [for red wine] in three weeks. We're picking pinot gris today and chardonnay next Friday". He anticipated a shiraz harvest in three weeks, but with more rain predicted picking might be delayed.
By 27 March as the rain cleared after an extremely nervous wait, Lumbers believed he'd "Dodged a bullet, with rain damage and losses near zero. The worst we suffered was botrytis [botrytis cinerea, a fungus] affecting about 10 per cent of the remaining pinot noir. We picked it yesterday but left the affected fruit. It was a miracle we lost so little in such a big crop".
But botrytis has its noble side, too, concentrating flavour, sugar and acid in luscious white dessert wines. Given the humid conditions, Lumbers says, "We decided to leave nearly half the pinot gris to botrytis".
He anticipated picking shiraz on 4 April – or earlier if it rained.
The cool, wet start to the season ameliorated January's savage heat wave. At The Vintner's Daughter, Murrumbateman, Stephanie Helm said spring rain meant good soil moisture and lush canopies. The healthy canopies protected fruit from sunburn and her vines skated through the heatwave without signs of stress.
With husband Ben Osborne, she harvested a good crop of healthy riesling on 14 March, gewürztraminer two weeks earlier, and anticipated picking merlot a week later and shiraz and viognier at the end of March.
On 6 March, before harvest started, Lark Hill's Chris Carpenter held high hopes for the 2017 vintage. He said the family's two biodynamic vineyards – Lark Hill and Dead Horse – held good quantities of disease-free, healthy fruit.
Two days later, the Carpenters harvested pinot noir and chardonnay for sparkling wine from Lark Hill vineyard. A particularly cool site at 860 metres, Lark Hill specialises in riesling, gruner veltliner, chardonnay and pinot noir.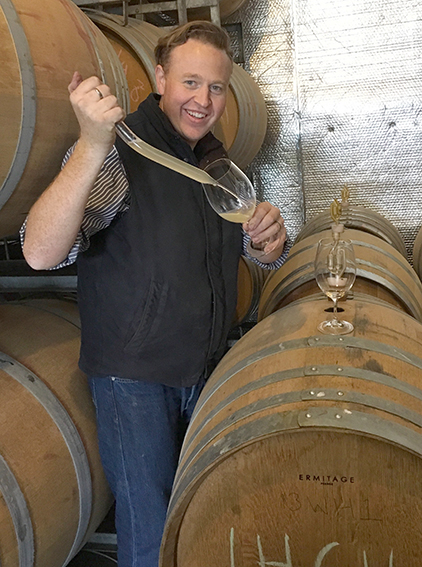 By 25 March the sparkling ferments were complete, and Lark Hill vineyard chardonnay, picked 20 March, fermented vigorously in barrel. Rain had delayed ripening in the pinot noir, Carpenter said, and he expected to harvest it around 8 April. He anticipated ripening of riesling and gruner veltliner around 14 April.
Lark Hill's lower, warmer Dark Horse vineyard at Murrumbateman grows the Rhone Valley varieties, shiraz, viognier, marsanne and roussanne plus Italy's sangiovese. Carpenter expected to pick the Rhone whites on 3 April, the shiraz in two passes on 3 and 14 April, and the sangiovese on 18 April.
At Yarrh Wines, Murrumbateman, Neil McGregor and Fiona Wholohan harvested most of their crop before the rain arrived on 22 March. By 29 March only the late-ripening sangiovese remained on the vine. Wholohan expected to pick it on Sunday 2 April. The fruit remains disease-free, she said.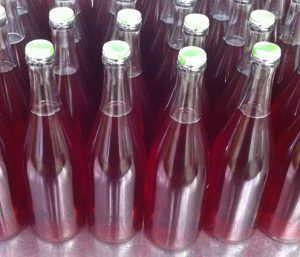 McGregor said the wet spring set Yarrh's vines off to a late but vigorous start, "but they didn't go nuts", he said. Anticipating hot weather, he began irrigating before Christmas and "paid attention to fruit shading" through canopy management, especially on the western side.
A tiny amount of fruit "got zapped" by the sun, he said, but most came through the season in great condition. While shiraz ripened a week earlier than the long-term average (after being three weeks early in 2016), other varieties ripened at normal times.
Wholohan and McGregor expect to offer their first wine of the 2017 vintage – Yarrh Pet Nat Sangiovese Rosé – during Canberra Harvest Festival, 8–9 April.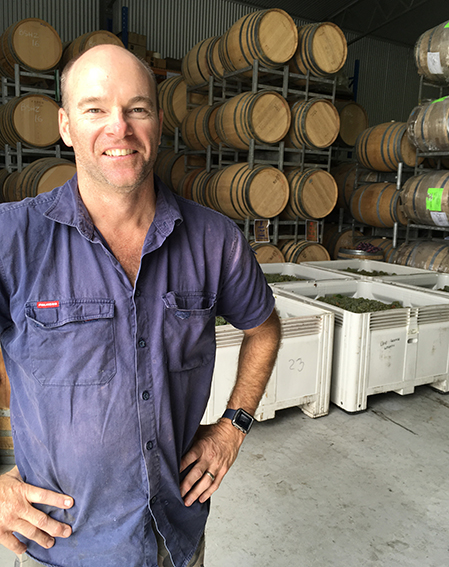 Richard Parker, winemaker at Long Rail Gully, Murrumbateman, expected to process around 500 tons of grapes, the winery's largest vintage to date. He said, "Quality is amazingly good". In a "compressed vintage, riesling, pinot gris, shiraz, pinot noir and merlot all ripened within one week".
A busy Clonakilla winery, Murrumbateman, expected to process around 350 tons of grapes from its own vineyard, other Canberra growers, and neighbouring Tumbarumba and Hilltops regions.
On 22 March, Winemaker Bryan Martin noted the slow, wet start to the season, followed by perfect flowering across all varieties simultaneously, as warm, dry conditions set in. The resulting big crop began to arrive, "In a fairly orderly fashion –pinot noir two weeks ago, then sauvignon blanc, then we picked the last block of riesling today", he said.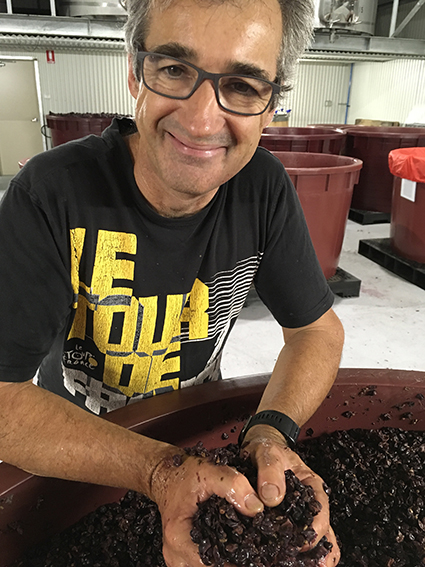 Hilltops shiraz was already fermenting, though the majority of Clonakilla's shiraz remained on the vine, along with cabernet varieties and other Rhone Valley red varieties.
Heavy rain later that afternoon switched on owner Tim Kirk's anxiety meter. But interviewed in the vineyard on 27 March, he said, "It's looking good. There are odd bits of botrytis on some bunches, but we can pick around them. We'll pick it all before Thursday. They're fully ripe, with gorgeous spice flavours but at lower Baume [a measure of sugar content] than last year".
Shiraz was on Greg Gallagher's mind too after the rain on 22 March. But grapes in his Murrumbateman vineyard were ripe and scheduled for picking the following day. "I decided to pick them this week", he said, "as they have lovely plum flavours". He'd already processed riesling and sauvignon blanc as well as pinot noir and chardonnay for sparkling wine.
At Capital Wines, Murrumbateman, owner Andrew McEwin says volumes are above normal, but not by much. He says, "It's a successful vintage by the look of it. My shiraz is spectacular, the best rieslings are very fine and fragrant, but quality depends on vineyard management and varies from grower to grower". He expects sangiovese to be the last variety harvested, in mid to late April.
On 23 March, climbing down from his tractor in Wily Trout's pinot noir vineyard at Springrange, Will Bruce described harvest timing as normal after a run of early-ripening years. He said, "It can't get any better than this. The pinot's a larger crop than usual, around nine tonnes a hectare, and the whites are excellent".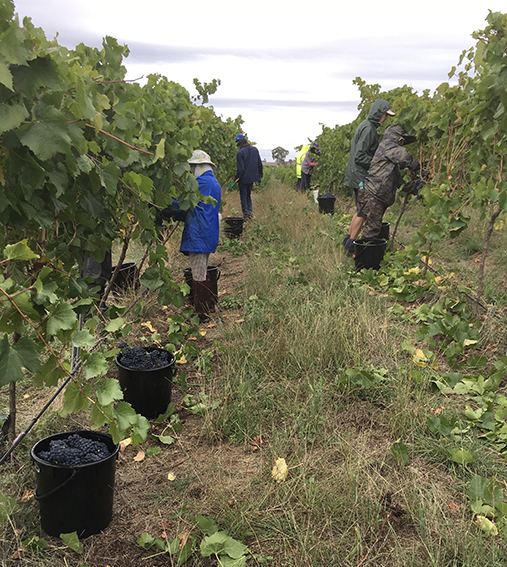 He'd already harvested chardonnay, sauvignon blanc, pinot for rosé and was part way through picking pinot noir for red wine. He expected to pick shiraz the following week and saw no threat to quality or quantity. From this vintage Bruce will make his Wily Trout Wines at Nick O'Leary's new Hall winery.
O'Leary's winery, completed just before vintage on the former Lawson vineyard, sits on the eastern rim of the Murrumbidgee Valley, near Pankhurst, Wallaroo Vineyard, Surveyor's Hill and Brindabella Hills Winery.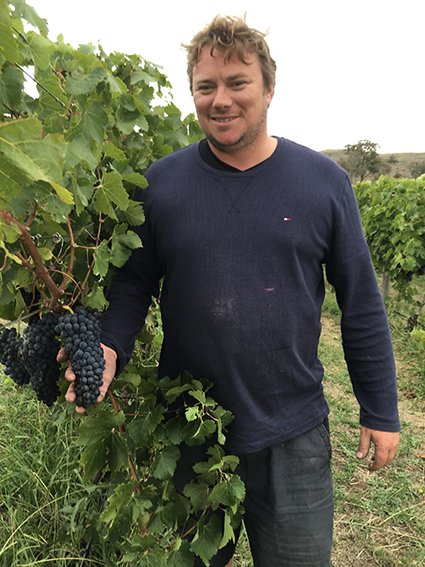 O'Leary rates vintage quality as very high, especially for whites. Rieslings have lower sugar levels with lots of flavour and good acidity. He says harvest is around two to three weeks behind last year, which is back to normal, and "Everything's coming in together. There was no break after riesling – in fact, tempranillo and riesling came in together".
Riesling is the district's hot variety this year according to O'Leary. Everyone's after it, he says, including out-of-district makers, and if you can find it, expect to pay $2000 a ton – the second highest price for the variety in Australia after Tasmania's $2300 a ton.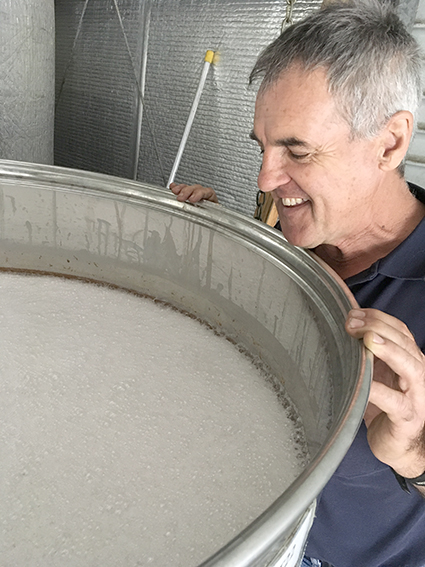 Down the road from O'Leary, Brindabella Hills vineyard remains out of production as owners Roger and Faye Harris negotiate a sale. But winemaker Brian Sinclair uses the Brindabella Hills winery for his new Ironcutter label and also makes wine for neighbouring Surveyor's Hill and Wallaroo vineyards, and Bermagui's Rusty Fig vineyard.
At 24 March neighbouring Pankhurst Winery had harvested tempranillo and pinot noir, while cabernet sauvignon, sangiovese, arneis, marsanne, roussanne and chardonnay remained on the vine. Allan Pankhurst described quality as "Superb to date, but we're not half way yet". He added the vines remained disease free after the first of the rain and anticipated a clean harvest, including his first substantial crop of Piedmontese white variety, arneis.
"Last year we blended it with marsanne and roussanne in our Box Tree White. This year we'll have only a ton, but it'll be enough to make a separate white", said Pankhurst.
In the last of our vintage vignettes, Canberra's inner city Mount Majura Vineyards reported on 24 March quantities generally slightly above estimates. Winemaker Fran van de Loo says, "We're happy with quality so far". However, much of the healthy-looking crop remained on the vine. Van de loo expects vintage to end with the harvest of graciano towards the end of April.
Provided all goes well in the last week or two of harvest, Canberra can expect another high quality vintage, with ample volumes and a greater diversity of varietals and wine styles than ever.
A season that was successively cool, wet, warm, dry, hot, cool, wet, then dry, ultimately produced excellent wine grapes. Wine made from those grapes will bear the season's stamp. We can expect spicy reds, delicate whites and slightly lower alcohol in many of the wines – all subtle variations on a regional style. It's really all about the weather and how our vignerons respond to it in vineyard and winery.
Copyright © Chris Shanahan 2017
Firsts published 4 April 2017 in the Canberra Times and goodfood