Quarry Hill Two Places Tumbarumba-Canberra Pinot Gris 2016 $24
Like other Canberra wineries, Quarry Hill uses grapes from higher, cooler Tumbarumba for some wine styles. In this instance Tumbarumba pinot gris (94 per-cent of the blend) joins grenache from Quarry Hill's Murrumbateman vineyard in a fresh, zesty, light pink dry wine. The savoury palate offers a subtle pear-like flavour, with a dry, gentle grip and a warm alcoholic aftertaste.

Helm Canberra District Cabernet Sauvignon 2015 $42
As I gathered stories for the Canberra vintage report, several winemakers reported grafting cabernet vines over to other varieties they considered more suited to the climate. Ken Helm, however, remains committed to the variety and in the outstanding 2015 vintage produced a pleasing result. The switch from mainly American oak to mainly French oak, adds to the wine's appeal. The oak lifts the floral varietal aroma and better complements the slightly leafy varietal flavour of the firm, tannic palate.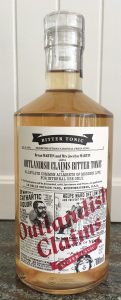 Ravensworth Outlandish Claims Bitter Tonic $45
Winemaker Bryan Martin writes, "vermouths and aromatised wines emerged when a wine had issues – ploughing various bitters and botanicals covered up the problem and a bit of sweetness pulled it all together". Martin makes white and red versions of his tonic, both infused, via fortifying spirit, with the herbal aromas and flavours and intense bitterness of exotic and indigenous herbs, spices, roots and leaves. Among its many outlandish claims, the tonic reputedly "prevents double chins" (if not double vision). Delicious.

Clonakilla Murrumbateman Ceoltoiri 2016 $36
It's light coloured, medium bodied, fruity, juicy, silk textured and completely irresistible. A blend of the Rhone varieties mourvedre, grenache, shiraz, cinsault, counoise and roussanne from an 0.4-hectare Clonakilla vineyard, Ceoltoiri (Irish for musician) occupies yet another spot on the Rhone-style red spectrum produced by Tim Kirk. This is the lightest coloured and bodied of the styles, offering a delicious depth of pure berry flavours combined with silky tannin. To be released. 27 April.
Copyright © Chris Shanahan 2017
First published 25 April 2017 in the Canberra Times and goodfood.com.au