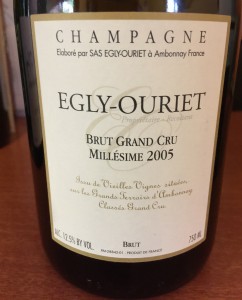 Champagne Egly-Ouriet Grand Cru Millesime 2005 $320
Egliet-Ouriet Grand Cru 2005 shows the power of great pinot noir (70% of the blend) and chardonnay grown around Ambonnay, one of the most highly regarded Champagne villages.
The base wine was aged in barrels until the winter after vintage. The winemaker maintained a relatively high acidity in the wine by blocking malolactic conversion, a secondary fermentation widely used in Champagne to reduce total acidity.
After bottling and secondary fermentation, the wine was matured on yeast lees for nine years before being cleaned up and shipped to market with a mere two grams per litre of residual sugar. That's a potentially mouth-searing brut. But it works for Egliet-Ouriet because other elements of its production (especially fruit quality) offset the acid. Indeed the acid accentuates the marvellous fruit flavour and adds to the wine's power, elegance and structure (derived largely from pinot noir and the effects of prolonged ageing on lees).
We enjoyed two bottles over the silly season – the first served masked at a formal tasting; the second over Christmas lunch. This is superior Champagne to savour, a wine of beauty. It shames the studied mediocrity of so many non-vintage blends.

Jim Barry Clare Valley Assyrtiko 2016 $35–$39
Peter Barry discovered the white variety assyrtiko on its home turf, Greece. He planted it in Australia's Clare Valley and in 2016 produced the first wine from the young vines much as he approaches riesling: gentle juice extraction, minimal skin contact, cool fermentation and exclusion of air. The result is a fresh, brisk, dry white with a lemony–tart edge and savoury, clean finish. It's something new, different and worth trying.
Copyright © Chris Shanahan 2017