Gallagher Canberra District Riesling 2017 $35
Gallagher 2017 beat 519 rieslings from seven countries to be named best wine in October's Canberra International Riesling Challenge. The wine also won awards as best dry riesling, best Australian riesling and best from the Canberra District. In comparison, judges at the recent Canberra and Region Wine Show struggled with Canberra's 2017 vintage rieslings, awarding a miserly one gold medal in a field of 30, with a bronze to Gallagher's wine. The Riesling Challenge judges got it right for this exciting, vivid dry riesling. Greg Gallagher sourced the fruit from Briar Ridge and other Murrumbateman vineyards. To be released mid December.

Mount Majura Canberra District Riesling 2017 $29
Winemaker Frank van de Loo captures the spirit of Canberra riesling, writing: "Ah, riesling! White blossom and lemon essence, along with the indefinable riesling-ness that is somewhere between aniseed, cold steel and crushed herbs. Purity and delicacy to the fore. We love its delicacy, fragrance and personality". His 2017 reveals all those virtues in a style that can be enjoyed now in its vibrant youth, or savoured over the years as it grows deeper and more textured with age. Winner of gold medals at the NSW Wine Awards and Royal Melbourne Wine Show.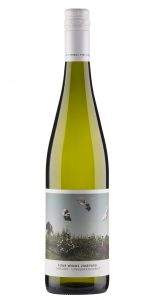 Four Winds Vineyard Riesling 2017 $25
By a small margin my favourite of the rieslings reviewed today comes from Four Winds Vineyard, Murrumbateman. Graeme and Suzanne Lunney planted the vineyard in 1998 and 1999 to supply Hardys. Today, daughter Sarah Collingwood manages the business while husband John Collingwood tends the vineyard; daughter Jaime Crowe and husband Bill Crowe make the wines on site at a separate business, Highside Winemaking. The family's 2017 riesling appeals for the intensity of its lime-like varietal flavour and brisk, invigorating acidity. Judges at the prestigious 2017 Winewise Small Vignerons Awards named it top wine of the show.
Mount Majura Canberra District Tempranillo 2016 $45
Mount Majura tests a range of varieties, including Spain's tempranillo, which produced lovely wine from the very first vintage in 2003. It sustained the performance and at this year's Canberra and Region Wine Show won the "Wine of Provenance" award for the outstanding quality of three vintages tasted side by side: 2015, 2009 and 2004. The just-released 2016 offers a limpid, crimson colour, highly perfumed aromatics, combining red berries and deeper savoury notes. The buoyant palate reflects the aroma. It combines fresh, lively young fruit flavours, which make the palate deliciously fleshy, with underlying black-olive-like savour and satisfying, firm tannins.
Copyright © Chris Shanahan 2017
First published 31 October 2017 in the Canberra Times