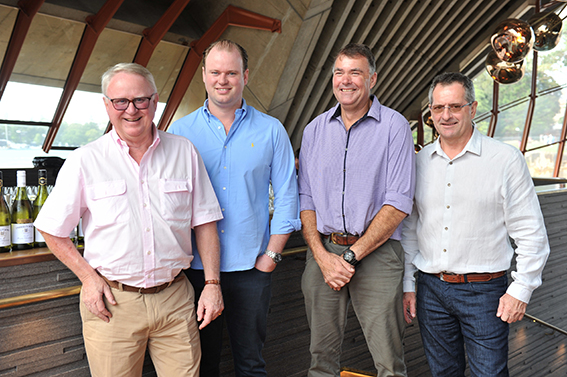 Tyrrell's turns 160 this year. Marking the anniversary, Bruce Tyrrell, his son Chris, winemaker Andrew Spinaze and vineyard manager Andrew Pengilly held a tasting of Vat 47 Chardonnays, vintages 2004 to 2017.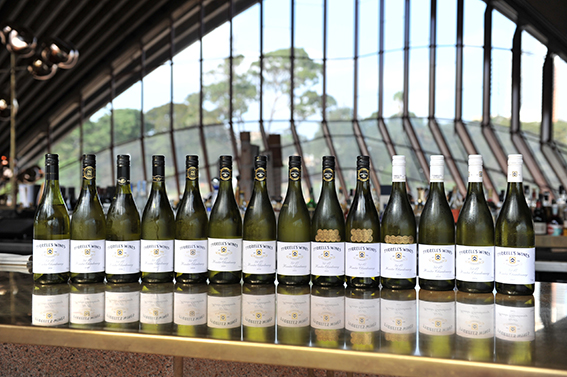 The 14-vintage sequence revealed Vat 47's continuing style evolution and the profound impact of the screw cap – 'Perhaps the greatest step forward…[it] saved Vat 47's reputation from the damage done by dud corks' says Bruce Tyrrell.
Tyrrell said, 'Chardonnay's moved on across the country but Vat 47 has never stood still. It's not stuck in the past'. He said the vintages on tasting deliberately started with the 2004 (the first vintage sealed with screw cap), and revealed other influences, including a gradual shift from partial basket pressing in 2007 to 100 per cent in 2013.
At the same, Tyrrells had been eliminating several vineyard sources from the blend. By 2013 sourcing had retreated solely to the Short Flat Vineyard across the road from the winery –site of the company's original 1960s chardonnay plantings.
'There's a day will come now that Vat 47's off a single vineyard that there'll be a gap in a future vertical tasting. We won't elevate a wine just to have a Vat 47', says Bruce.
Changes to fruit sourcing and winemaking over the last decade were driven by a desire, 'to improve the Hunter Valley style or be left behind by the cooler climate areas', write Bruce Tyrrell and winemaker Andrew Spinaze. 'We are not a cool climate area and you cannot change your identity but you can modify your style'.
Winemaking changes included the introduction of basket pressing (improving flavour and texture and increasing natural acidity), elimination of pectin enzyme additions, increased spontaneous fermentation and ongoing work with French barrel cooper Francois Frères to 'create a barrel that suited what we are trying to achieve in our final style'.
Future tweaking will likely come more from work in the vineyards than in winemaking. Says Chris Tyrrell, 'There are so many great chardonnays we need to lift the bar and focus on the best blocks [in the Short Flat vineyard]'.
Message in a bottle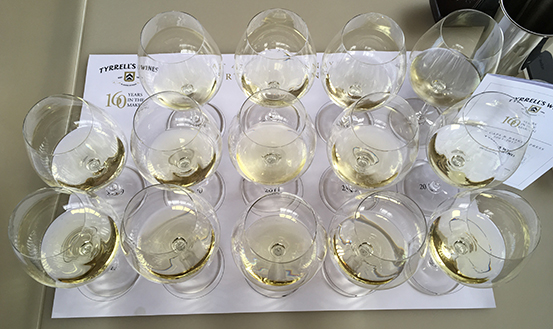 What a contrast to earlier vertical tastings of cork-sealed Tyrrell's whites, where random oxidation, caused by corks, marred many bottles. Every bottle opened bright, fresh and with vivid, green-tinged colours. The older wines presented beautiful nutty and honeyed characters of age, while remaining fresh and vital. The spectrum of aromas and flavours faithfully captured the character of each vintage.
For example, the neighbouring 2007 and 2008 vintages reflected the full flavour of a hot vintage and the more subtle, citrusy character of a cold, wet year respectively. Likewise, the 2012, from another cold, wet vintage, allowed some of the winemaking inputs to push above the fruit character, without overwhelming it.
The current release 2014 showed its gentle, melon-like varietal flavour on a mouth-filling but tightly structured palate. However, in a flawless line-up among many beautiful wines, two wines topped my scoresheet: 2009 and 2013.
Here's a couple of earlier pieces on Vat 47 plus one on the introduction of the screw cap.
Tyrrell's Vat 47 Chardonnay: ahead of its time, still a leader
Langton's Classification: Tyrrell's Vat 47 Chardonnay one of the few white elites
Copyright © Chris Shanahan 2018