When I began wine retailing in 1976 Australians already drank impressive volumes of Champagne. Indeed for a time we were the only country buying more vintage than non-vintage product.
Australia now imports around eight million bottles a year, though the mix favours non-vintage Champagne, a change driven partly by direct retailer imports and aggressive discounting by importers of some of the big houses. As well, consumption is now more widely dispersed through a society far more affluent and wine savvy than it was 40 years ago.
Along with the shipping containers over the decades came a steady flow of Champagne personalities looking as if they could hardly believe their own good luck.
Heads of houses, sales reps and titled family members spruiked – and continue to spruik – their wares across the country. They're part of a great machine that markets, and tenaciously protects, not just individual brands but the Champagne brand as a whole.
And it's a very big luxury brand by any measure. According to Comite Champagne, in 2016 the region sold 306 million bottles worth 4.7 billion Euros. Exports accounted for 48 per cent of volume and 55 per cent of value. Australia ranked sixth biggest market by volume, behind the UK, USA, Germany, Japan, and Belgium. All of those countries, Belgium excepted, have vastly bigger populations than Australia's 24.8 million people.
Little wonder then the Champenoise regularly visit our shores.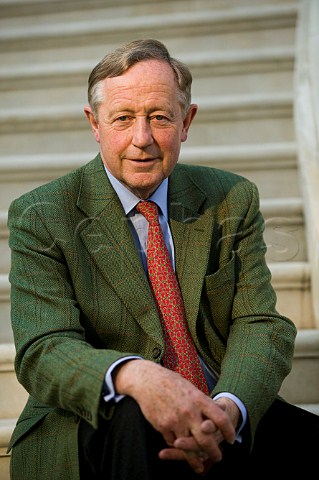 One of note, I recall, was the gracious, generous, hard-working Christian Pol Roger from the Champagne house of the same name. He's retired now, but visited Australia over quite a long period.
On one visit in the mid 1980s, we asked and he accepted our invitation to a tasting at the Farmer Bros Wine and Spirits warehouse in the inner Sydney suburb of Waterloo.
We promoted Pol Roger's visit through our monthly wine newsletter and a full-page advertisement in the Sydney Morning Herald. Here was an opportunity, we said to customers, to meet the famous Mr Pol Roger and pick up a magnum or two at a great price.
Mr Pol Roger worked tirelessly through a busy Saturday, talking to customers, pouring wine, and signing magnums – a task well removed from the usual smaller scale trade tastings he traditionally hosted. His labours proved a huge success for us commercially, for the Pol Roger brand and for the many customers who met him and enjoyed his Champagne.
Visiting Champagne heads customarily dispense largesse to the trade, as we well knew from long experience. They'll wine you, dine you and leave you with a good impression of their product.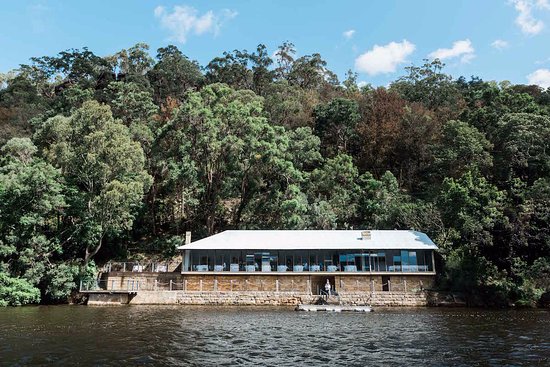 On this occasion, however, we insisted Christian be our guest at Berowra Waters Inn – an invitation he accepted graciously but with some surprise. Under Gay Bilson, the waterside restaurant, located in one of Sydney's remote and dramatic sandstone gorges, was then at its outstanding peak.
Bilson had recently converted her wine list to an all-Australian affair, with one exception, a house Champagne. From memory (possibly unreliable) it was Louis Roederer, though certainly not Pol Roger.
We also knew from experience visiting Champagne heads understandably prefer to drink their own product. I therefore took the precaution of phoning Gay Bilson ahead of the dinner and asking if she'd adopt Pol Roger as house Champagne for the evening.
She understood the situation and obliged. On a balmy Sydney evening we drove Pol Roger to Berowra. Delighting at the beautiful bush, sandstone and water setting, Pol Roger stepped into the aluminium skiff for the short ride to the restaurant. Bilson greeted us at the door, Pol Roger Champagne was poured and we sat down to a memorable Bilson meal in the unique setting.
More than 30 years later the Champagne folk continue to arrive, the latest being a Canberra visit by Francois Colas, representing Champagne Bruno Paillard, a comparative newcomer to the region's ranks.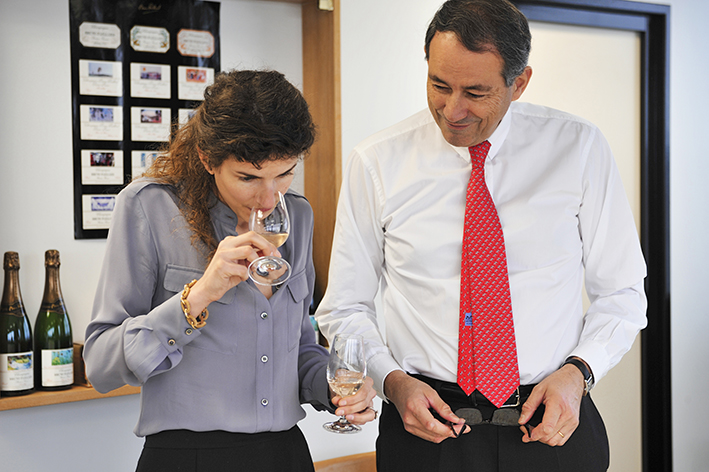 Bruno Paillard founded the company in 1981 and for the first 10 years bought grapes from growers. From 1984 he began acquiring vineyards, initially in Oger, and now owns 33-hectares spread over 17 villages.
Colas says the company now controls two thirds of its grape sourcing and buys the rest. Grapes come from 35 villages.
Bruno Paillard continues to run the business while gradually handing control to his daughter Alice.
The wines are very much in Champagne's 'built' style. Fruit flavour underpins the blends. But winemaker inputs add many layers to texture and flavour. For Bruno Paillard these influences include barrel fermentation of 26% of all varietal components; extensive use of older reserve wines (up to 50% in the non-vintage), prolonged ageing on yeast lees, followed by six-months to three years maturation after disgorgement.

Champagne Bruno Paillard Premiere Cuvée NV
Pinot Noir 45%, chardonnay 33%, pinot meunier 22%
Disgorged June 2017. Minimum three years maturation on lees
An impressive NV (or multi-vintage as Paillard calls it), showing the benefit of extended ageing on lees. Many NVs on the market show simple fruit flavours and lack the depth of those aged on lees. Paillard's offers delicious fruit flavours coated in Champagne's lovely add-ons, in a fine, lean, taut style.

Champagne Bruno Paillard Assemblage Vintage 2008
42% chardonnay, 42% pinot noir, 16% pinot meunier
disgorged June 2015
From a great Champagne vintage, the wine combines freshness, the structural and flavour characters of long maturation on yeast lees, and delicious underlying fruit character. Pinot flavours push through while the chardonnay is probably behind a zingy, fresh, lemony finish.

Champagne Bruno Paillard Blanc de Blancs 2006
Chardonnay. Disgorged March 2015
A little over 11 years old on tasting, Blanc de Blancs belied its age with a shimmering med-lemon-gold, green tinted colour. The freshness suggested by the colour came through in the aroma and palate as a vibrant pear-like character. However, the backbone derived from lees ageing, along with a subtle almond-like character, contributed to the lingering, satisfying finish.

Bruno Paillard Nec Plus Ultra 2002
From five grand-cru vineyards. Chardonnay 50%, Pinot Noir 50%
Made only in great vintages. Disgorged 2014.
A beautiful, elegant Champagne, layers of flavour, firm but fine structure with finesse.

Champagne Bruno Paillard Rosé Premiere Cuvée
Pinot noir with a splash of chardonnay. Three years on lees.
High level of reserve wines, a blend of 25 vintages from 1985
A powerful and fine rosé built on pinot noir varietal flavour and the variety's firm backbone, augmented by its three years on lees.
Copyright © Chris Shanahan 2018