A warm dry 2017 growing season produced comparatively strong, full-flavoured shiraz in the Hunter Valley, albeit within the area's medium-bodied mould. Our panel of four tasted Andrew Thomas's vintage offerings and found considerable style variation – from taut and savoury to soft and opulent.
We tasted the wines masked and in random order. We knew what was in the lineup, but not the order. Our reviews below follow their sequence in the tasting.
Belford Shiraz 2017 $45
Single vineyard, Belford sub-region, first release
Deep but not opaque, with crimson rim; pure, high-toned fruity aroma with hint of sweet vanillin oak; full, concentrated palate reflecting the aroma but with more oak than the nose suggests and quite firm, fine tannins. Oak nose emerged more with time, along with a savoury, earthy aftertaste.
Sweetwater Shiraz $35
Single vineyard, Sweetwater Ridge
Similar hue to the Belford wine; strong, earthy–savoury aroma, meaty, charcuterie; meaty, charcuterie palate with underlying fruit sweetness and lean, tight tannins.Over time, sweet fruit aroma and flavour emerged more strongly.
Kiss $85
Single vineyard wine, the Thomas flagship
Deep colour, with crimson rim; savoury and charcuterie aroma combined with sweet fruit and oak; the powerful palate combines intense, fleshy fruit, with mouth-filling tannins and assertive oak flavours. Two tasters perceived bitterness in the oak aftertaste. However, a wine of this great dimension ought to absorb the fruit fully as it matures over the decades.
The Cote 2017 $35
New release, single vineyard, the Cote d'Or, Central Pokolbin
Medium to deep colour with intensely crimson rim; lovely combination of sweet fruit and savour on the nose; strong, grippy palate, earthy, savoury, charcuterie, with tight, firm, lingering tannic finish.
DJV 2017 $35
From the alluvial flats of Hermitage Road
Medium to deep with crimson rim; subdued aroma combining fruit with savour; lean, tight palate, grippy and tannic but with sweet, juicy fruit under; structure reminiscent of Burgundy (but not the flavour).
Two of a Kind 2017 $25
A blend: Hunter Valley 55%, McLaren Vale 45%
Deep, not opaque, with crimson rim; earthy, savoury aroma with hint of underlying fruit; intensely fruity palate, buoyant and sweet, with soft, fine tannins. Juicy and loveable.
The Dam Block 2017 $45
From an 0.8ha block adjacent to old-vine Kiss shiraz
Deep with crimson, not opaque; aroma combines sweet red fruits with savour and oak, most enticing; powerful, concentrated flavour, round and mouth filling, cut with soft, dry, tannins. Impressive.
Synergy 2017 $25
Blend of old-vine vineyards
Medium to deep with crimson rim; aroma combines fruit, spice and savour; lively palate, tight and tannic, but woven in with vibrant berry fruit flavours. Agreeable now and with some ageing potential.
Elenay 2017 $55
Selected barrels blended from Sweetwater, Kiss, Belford and Dam Block vineyards
Deep with intense crimson rim; big, rich aroma of ripe, sweet fruit laced with sweet oak, in harmony; full, powerful palate, saturated with ripe fruit, but the fruit countered by equally rounded, soft tannins, of fruit and oak origin. The oak is apparent but sympathetic. The group's favourite.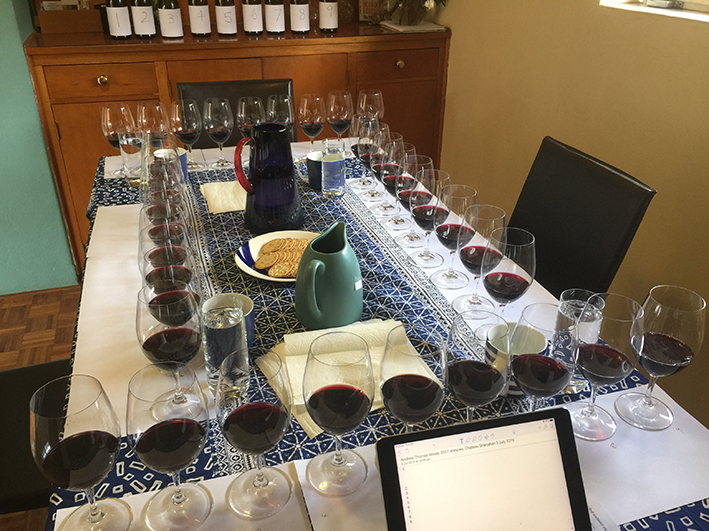 © Copyright Chris Shanahan 2019