Clonakilla Murrumbateman Syrah 2017 $108
Of medium hue, lighter in colour than Western Vineyard Syrah and Shiraz Viognier reviewed below, Syrah 2017 offers sweet aromas of dark fruits, cut with savoury notes. The palate's full but fine, with tight tannins adding structure and additional savour to the deep fruit. Summed up as subtle, sensuous and powerful.

Clonakilla Murrumbateman Western Vineyard Syrah 2017
Revolutionary
Western Vineyard 2017's bold fruit, soaring oak, and stalky whole-bunch flavours take it in an entirely different direction from Syrah 2017's subtle power or Shiraz Viognier's floral, succulence. Alone of the three Clonakilla flagships, it's matured in all-new oak, perhaps the biggest single contributor to its attention-getting style. Even at this early stage of its evolution, the whole appears greater than the sum of its parts – even if the parts stand out individually for now. This is a revolutionary Clonakilla wine to revisit in future. Winemaker Tim Kirk says he made only 150 dozen for release in a mixed six-pack to loyal customers before Christmas 2019.

Clonakilla Murrumbateman Shiraz Viognier 2017 $108
Brilliantly coloured and limpid, Shiraz Viognier shows the classic Clonakilla style: violet-like, spicy, fruity aroma; assertively structured on the palate, in the gentlest way, with distinctive spice and pepper pervading the succulent palate.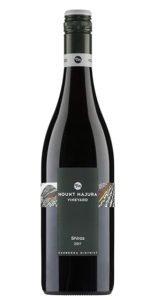 Mount Majura Vineyard Shiraz 2017 $30.40–$38
A winner of gold medals in the 2018 NSW Small Winemaker Wine Show and Canberra and Region Wine Show, Mount Majura holds the drinker's interest from the first sip to the last drop. First impressions are of spice and savour, both in the aroma and palate. But sweet, vibrant fruit pushes through the charcuterie-like savour and spice, while fine tannins give satisfying grip and structure.
Copyright © Chris Shanahan 2019