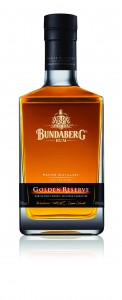 When great, great grandfather Shanahan trudged up Macquarie Street, past Sydney's rum hospital, the dark spirit served as both currency and tipple of choice in his majesty's colony. Cold, hard cash eventually became currency, but the tipple lingered on, ultimately retiring to Queensland, close to the cane fields.
Two hundred years on, Bundaberg distillery rules Australia's rum category, principally through the enormous success of its ready-to-drink mixes – notably with ginger beer and cola.
But Bundaberg's London-based owner, Diageo, clearly sees an upmarket niche, and perhaps respectability, in finer, aged versions of its molasses-based spirit.
Golden Reserve, the third in Bundaberg's Master Distillers' Collection, combines a range of older rums, some matured in retired sherry and port barrels. These inject attractive flavours into our historic, sun-soaked spirit. It'll hold little appeal to Cognac or single-malt drinkers. But it's definitely a rum to savour on its own.
Bundaberg Master Distillers' Collection Golden Reserve Rum $89.99
The colour's a deep gold and the aroma suggests the "rancio" character of fortified wine, long aged in old oak barrels – with the devil rum itself pushing through in the background. Fiery spirits leads the charge on a rich, smooth palate that also reflects the oak character of the aroma.
Copyright © Chris Shanahan 2012
First published 16 May 2012 in The Canberra Times