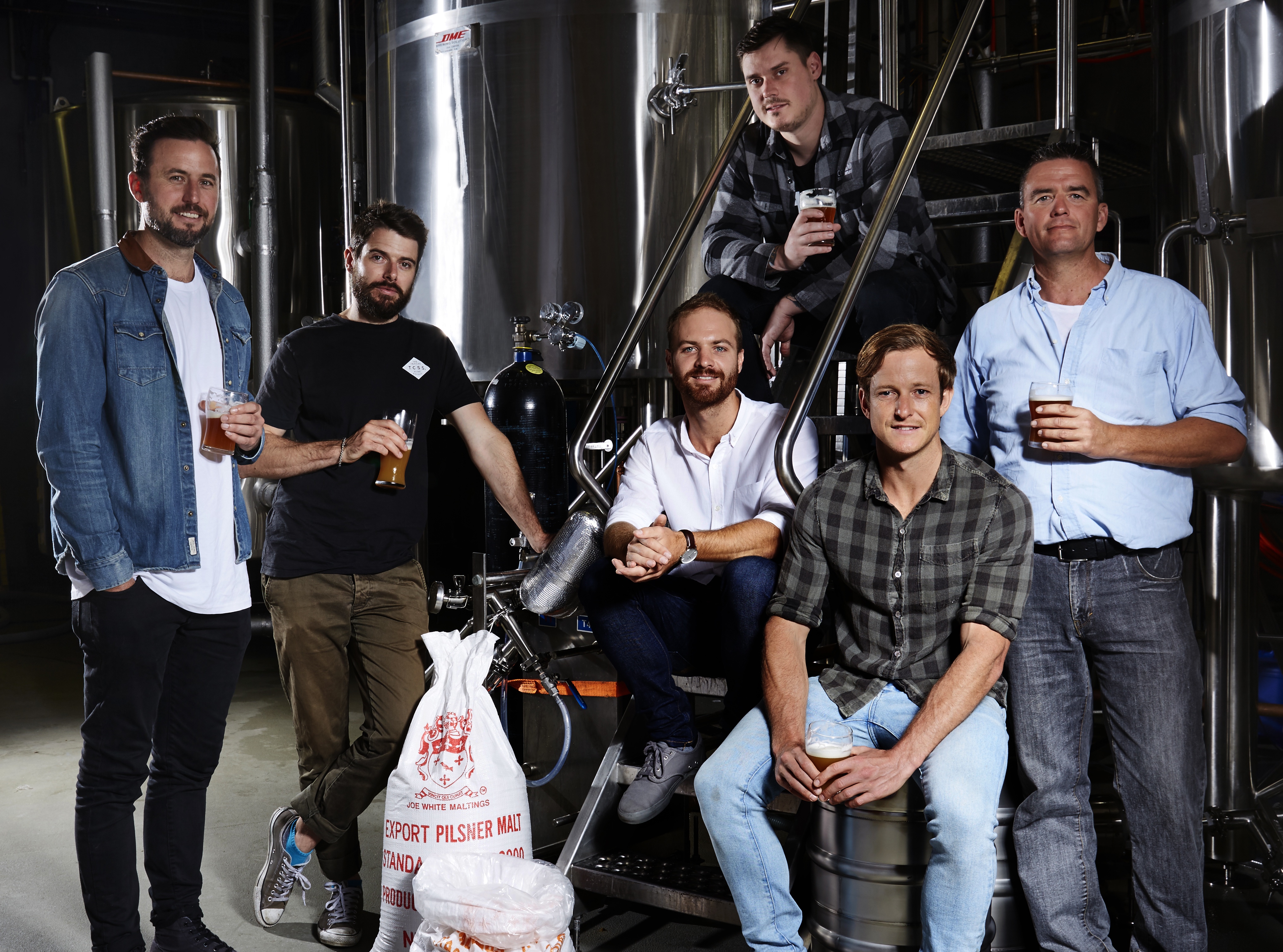 Capital Brewing Co team, from left to right: Nick Hislop, Laurence Kain, Tom Hertel, Wade Hurley, Rich Coombes, Ian Stott
Canberra's vibrant craft brewing scene becomes even more colourful from 21 April with the launch of the city's sixth brewer, Capital Brewing Co. The new brewer joins our five existing players, the Wig and Pen Tavern and Brewery, Zierholz Premium Brewing, Tortured Gum Brewery, BentSpoke Brewing Co, and Pact Beer Co.
Canberra bar owners Tom Hertel and Laurence Kain began planning the brewery in June last year with Rich and Sam Coombes. The brothers, founders of the Batlow Cider Co, supplied Hertel and Kain's Civic bars, Honky Tonks and Hippo Co.
The Batlow connection brings an existing national distribution network to the new venture. More excitingly for drinkers, it gives Capital Brewing Co direct access to one of the holy grails of brewing: a secure supply of hop flowers.
Rich Coombes says Batlow Fruit Cooperative commenced hop growing a couple of years back. As the first hop grower in the state, the cooperative received a NSW government grant and sent orchard manager Andrew Desprez on a study tour of US and New Zealand hop-growing regions.
Coombes says the cooperative harvested its second crop this year and, "Capital takes all of the US Cascade and Chinook varieties".
Like other brewers, says Coombes, Capital uses pelletised hops. But it also has access to Batlow's fresh hop flowers at harvest (used this year in Capital Evil Eye Red IPA) and a year-round supply of dried hop flowers, preserved in a cold store at two-degrees Celsius.
Unlike brewpubs BentSpoke or the Wig and Pen, which sell most of their beer on site, Capital Brewing Co intends to be a producer and distributor of beer with a distinct Canberra identity.
Tom Hertel says, "The name is a reference to the area. We [Hertel and business partner Laurence Kain] grew up here and we love Canberra. It's a great place to live".
While the three Capital beers being released on 21 April were brewed in Sydney, Hertel and his partners expect to commission their own US-manufactured brewery at Dairy Road, Fyshwick around September or October this year.
Hertel says, "We're gypsy brewing at a couple of sites in Sydney. This isn't the same as contract brewing, where someone else brews from your recipe. We rent tanks and have total control".
Inspired by the San Diego craft beer scene, Hertel and partners brought California brewer Wade Hurley to Australia. Hurley produced the "gypsy" brews in Sydney and will head the Canberra brewing team.
The beers being released tomorrow show a distinct California influence. This reflects the personal tastes of the partners as well as California's ownership of the strong, hoppy beer styles now being brewed globally.
Hertel describes Capital Brewing Co Trail Pale Ale as an American pale ale style, rich in malt and hops. Evil Eye Red IPA ratchets up the malt and hops even more. And Coast Ale, he says, provides lighter, easier drinking, "Like a California common. It's a beer you'd take down the coast".
Initially, Capital plans to sell kegged beer into the Canberra market, beginning with the launch tomorrow. However, production and distribution will expand when the Fyshwick facility opens.
"It's a 1000-square-metre warehouse", says Hertel. "We'll have a large brewery, canning and bottling machines and a touch-and-feel tasting bar where people can watch the whole process".
Running the brewery with brewer Wade Hurley will be two more Capital partners, Ian Stott and Nick Hislop, with backgrounds in brewery and cider-making logistics and sustainability.
Hertel and Kain recently sold their Honky Tonks bar. However, they retain Hippo and Co and will offer Capital Brewing Co Trail Pale Ale, Evil Eye Red IPA and Coast Ale on tap there from tomorrow. They expect other outlets to offer the beers, but details are not available at the time of writing. Hertel says they will list stockists on their website (capitalbrewing.co).
Copyright © Chris Shanahan 2016
First published 13 April 2016 in goodfood.com.au