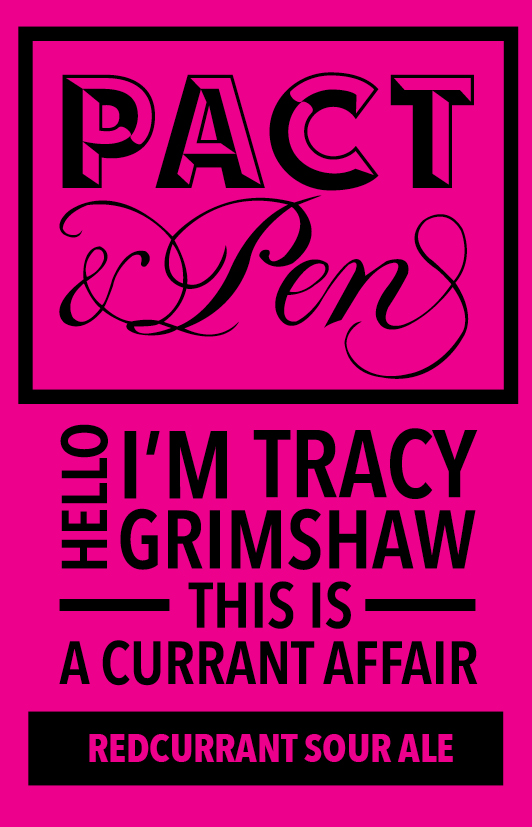 Hello. I'm Tracy Grimshaw. This is a currant affair
A new sour beer made by two Canberra brewers goes under the Pact and Pen label as "Hello, I'm Tracy Grimshaw. This is a currant affair".
Pact Brewing Company's Kevin Hingston and the Wig and Pen's Frazer Brown created the sour, redcurrant-flavoured brew for Melbourne pub, The Ale House Project.
The beer is being served during the Ale House's "This is red" event between 11 and 24 April.
Hingston says with the Melbourne launch now done, Tracy will go on tap at the Wig and Pen, ANU, and the Durham Arms, Kingston.
The beer, styled on Germany's Berliner Weisse, derives its sourness from the residues of micro-flora, including lactobacillus, living on the surface of cracked grain. The grain, which also nourished the fast-breeding microbes, was added to a mash of wheat and pilsner malts – all seeped at a Jacuzzi-like 40 degrees before being fermented.
Hingston says the beer, while about double the strength of traditional Berliner Weisse, retains the style's delicate sourness, offset by the sweet redcurrant.
Beer reviews
Thornbridge Kipling South Pacific Ale (UK) 500ml $9.45
Like coals to Newcastle, the UK's Thornbridge brewery uses hops from Nelson, NZ. The hops give a distinctive fruity aroma to a beautifully harmonious, golden-coloured ale. The lively palate really sings with smooth, sweet malt, offset by flavoursome and lingeringly bitter, refreshing hops. This is a wonderful, balanced example of a beer revealing the full gamet of a unique hop variety's aroma, flavour and bitterness.
Schlenkerla Oak Smoke Doppelbock (Germany) 500ml $7.98
Schlenkerla brewery of Bamberg, Germany, specialises in Rauchbier – an ale made from malt kilned with beech smoke. The brewery's extra-strong (eight per cent alcohol) oak-smoked variant provides a slightly more subtle smokey experience. Charcuterie-like aromas and flavours permeate the opulent, malty, bitter palate.
Copyright © Chris Shanahan 2016
First published 12 and 13 April in goodfood.com.au and the Canberra Times