Grenache deserves more credit than it gets says Clonakilla winemaker Tim Kirk.
Speaking at a Canberra tasting in late April 2019, Kirk rated Chateau Rayas 1990 as one of the three greatest wines he'd tried. The current vintage of this all-grenache red from France's Chateauneuf du Pape area (southern Rhone Valley), sells for around $900. And the legendary 1990 may still be found for $2000–$4000.
For that price you could buy two to four tonnes of Australian grenache grapes (average $1016 a tonne in vintage 2018). Lending credibility to Kirk's faith in the variety, the price of grenache price exceeded that of shiraz, cabernet sauvignon and merlot and was on a par with pinot noir and tempranillo – making the trio, on average, the priciest red wine grapes in Australia in 2018.
While Rayas 1990 stands apart, in both France and Australia, high yields for grenache has meant historically a tendency to produce light bodied, undistinguished table wines. At the same time, grenache contributed to many of the superb 'ports' produced in Australia's warmer areas and, because of its light colour and fragrance, was and remains a delicious rosé variety.
Visibility of grenache in more serious Australian reds grew in the 1980s through the work of the Barossa Valley's 'Rhone Rangers'. This small group dedicated itself to making earthy, savoury, spicy reds from the Barossa's treasure trove of old-vine Rhone Valley varieties, grenache, mourvedre and shiraz.
Of the three, shiraz remains the most widely grown and best known to drinkers. But over the decades mourvedre (aka mataro) and grenache became familiar in warm-climate blends with shiraz – a style popularly known as GSM (grenache shiraz mourvedre).
Clonakilla Murrumbateman Ceoltoiri 2018 $36

As these generous, spicy blends came originally from warm to hot regions, the arrival a few years back of Clonakilla Ceoltoiri from Murrumbateman, in the Canberra District, surprised those of us who'd assumed the area too cool to ripen the Rhone varieties.
This turned out to be deliciously not the case. Though lighter bodied than the warm-climate originals, Ceoltoiri nevertheless offers the blend's fragrance, spice, juicy fruit flavours and supple, soft texture. The warm 2018 vintage gives Ceoltoiri a little more richness than usual. Kirk says, 'It's over 60% grenache, with five other varieties. It's an ode to the southern Rhone'. The other varieties are mourvedre, shiraz, cinsault, counoise and a drop of the white variety roussanne.
This is a fine, elegant expression of a grenache blend.
Introducing Heidenreich Barossa Valley Grenache 2016 $28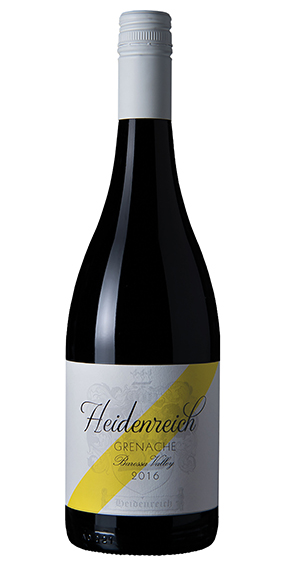 In 1936, Rufus Armein Heidenreich planted grenache vines at Vine Vale on the Barossa Valley's eastern ridge. Eighty years later his granddaughter Liz harvested grapes from those vines and made the first grenache to appear under her new Heidenreich label.
Liz writes, 'This area of vineyard is located along the eastern edge of the Barossa Valley, which was one of the first areas settled in the 1840s due to its deep, sandy, loam soils and water-holding capacity in non-irrigated vineyards. The gully breeze that is prevalent in this area helps keep grapes cool during the hot ripening season, and retains natural acidity and freshness'.
Place fruit from these lovingly tended old vines in the care of an experienced winemaker and you get an exceptional expression of warm-climate grenache.
Liz says she made the wine in an open-top, four-ton fermenter, gently plunging the skin twice daily for colour and flavour 'without extracting bitter seed tannins'. After fermentation, the wine matured in French oak hogsheads, 10% new, the rest 2–4 years of age. Clearly, her aim was to mature the wine without inserting overt oaky flavours.
The wine displays the red-berry fruits of the variety, along with spice and deeper savoury notes. The generous, supple palate ripples with ripe, juicy fruit flavours, supported by soft tannins and boosted by the underlying savour first noted in the aroma. This is an excellent straight grenache, demonstrating the great appeal of warm-grown reds.
Copyright © Chris Shanahan 2019